If you want to have your little bird friends have a nice bath and drinking water in your garden, then you should consider installing fountain water pumps in your garden and pond. Since you have a garden and love birds so that means you're a nature lover just like me.
As a fellow nature lover, you should also be concerned about environmental pollution and all the harm modern humans are doing to our beloved mother nature.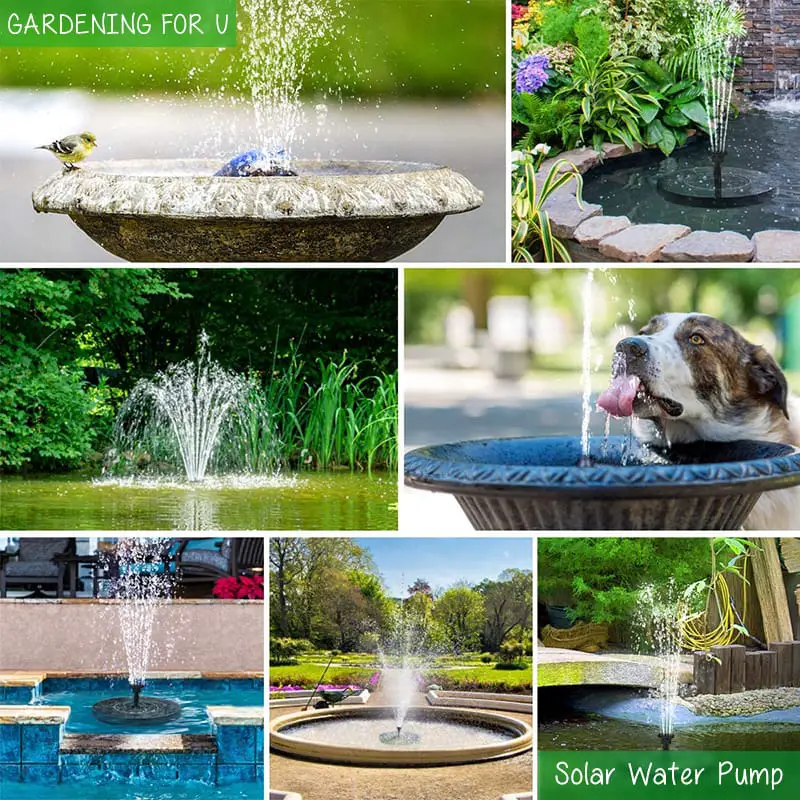 While installing a water fountain pump in your pond or garden, you should use a solar water pump that relies on green energy for your green garden.
These solar-powered water pumps are environmentally friendly and reduce pollution done by electricity production.
A solar water pump will also save your monthly electricity bill as a bonus. You can use the extra money to maintain your precious garden.
What's a Solar Water Pump?
u003cstrongu003eA solar water pump is a solar-powered water pump that changes solar energy to electricity for pumping water.u003cbru003eThese pumps are used to create solar water fountain pumps. Solar water pumps are mostly eco-friendly and budget-friendly.
Now that you have cleared the basics on solar water pumps and fountains, you must be wondering which solar water fountain pumps and solar water pump kit you should use and which one should be the best for you.
No worries!
Here are the 10 best solar water pumps and everything you need to know about them. Go ahead, read, and decide which pump to use for convenient and aesthetically pleasing fountains!
1.  Solatec Solar Fountain, Black
Brand: Solatec
(AMAZON Best Seller)

If you don't want the extra hassle, the Solatec solar fountain is for you. This solar water pump's solar panel is powered through solar power. This means it does not require electricity or batteries, just good sunlight.
Not only this, the water fountain itself has 4 different kinds of nozzle heads attached, which helps to modify the water height. The water will rise to approximately 30-50 cm, depending on your setting of nozzles.
This water pump can be used very quickly. What you need to do is make the pump float in the bath or pool. Then it will run automatically within a couple of seconds until the solar panel gains sunlight.
Make sure to use enough water in the fountain to keep the pump underwater. To stop the pump from being blocked by dirt, you can clean the pump regularly.
It stores no energy at all. When ALL panels are exposed to direct sunlight, the solar water pump works properly. A one-panel leaf shading prevents it from running everywhere.
This fountain is useful for fish tanks, birdbaths, water circulation pool, garden, lawn, for oxygen. It can be very pleasurable for both the viewers and inhibitors.
PROS
Convenient for users
It is very eco-friendly
Have multiple applications and sprayer style
Gives a decorative look to your outdoors
CONS
Needs daily cleaning to avoid clogging
Needs direct and full sunlight coverage
Doesn't store energy for future
2. 4W Solar Fountain Pump
Brand: Panadoo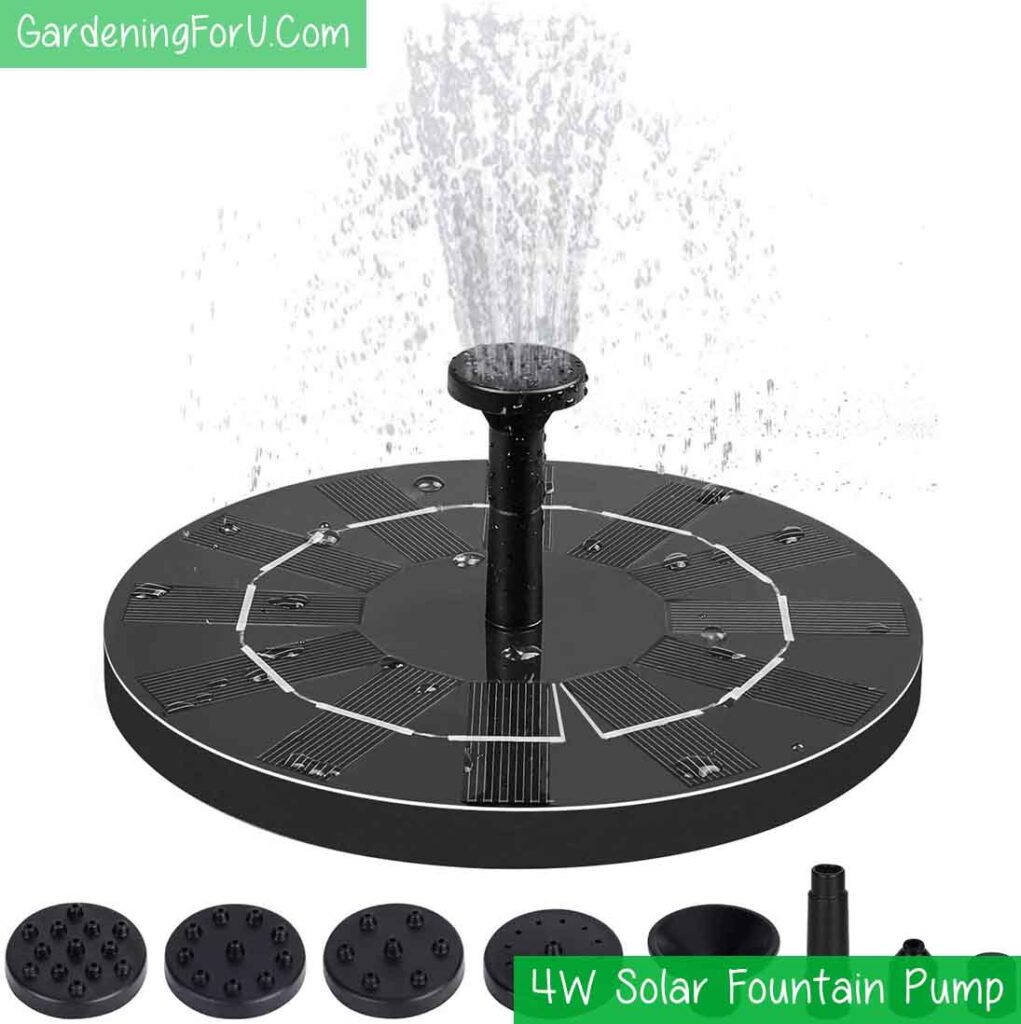 If you are a beginner and want to have an easy experience, this solar water pump is for you. In direct sun, the solar birdbath fountain only takes 3 seconds to run. The spray height will be up to 50-60cm. This fountain doesn't need any electricity or a generator.
Its 6 Selectable Sprayers with 6 different nozzles will fulfill your various jet height or jet form needs. To stop spraying out of the basin, the water height can be changed by adjusting the nozzles.
This fountain pump also requires no extra tool for the installation. All you need to do is put the pump in your water. After that wait 3 seconds after putting it under sunlight. The stronger the sunshine, the better the fountain runs.
To ensure that nothing shades the panel or blocks the pump, keep enough water and keep the water, panel, and pump clean.
This solar water pump has multiple applications so it can be used for both small animal inhabitants and to make your outdoors look eye-catching.
PROS
Takes only a few seconds to operate under the sun
Have options of adjustable nozzlesn
Have multiple applications
Very easy installation
Beginner-friendlyn
CONS
Needs frequent water filling
Clogs easily with dirt and debris
3. Goldflower Solar Bird Bath Fountain
Brand: GOLDFLOWER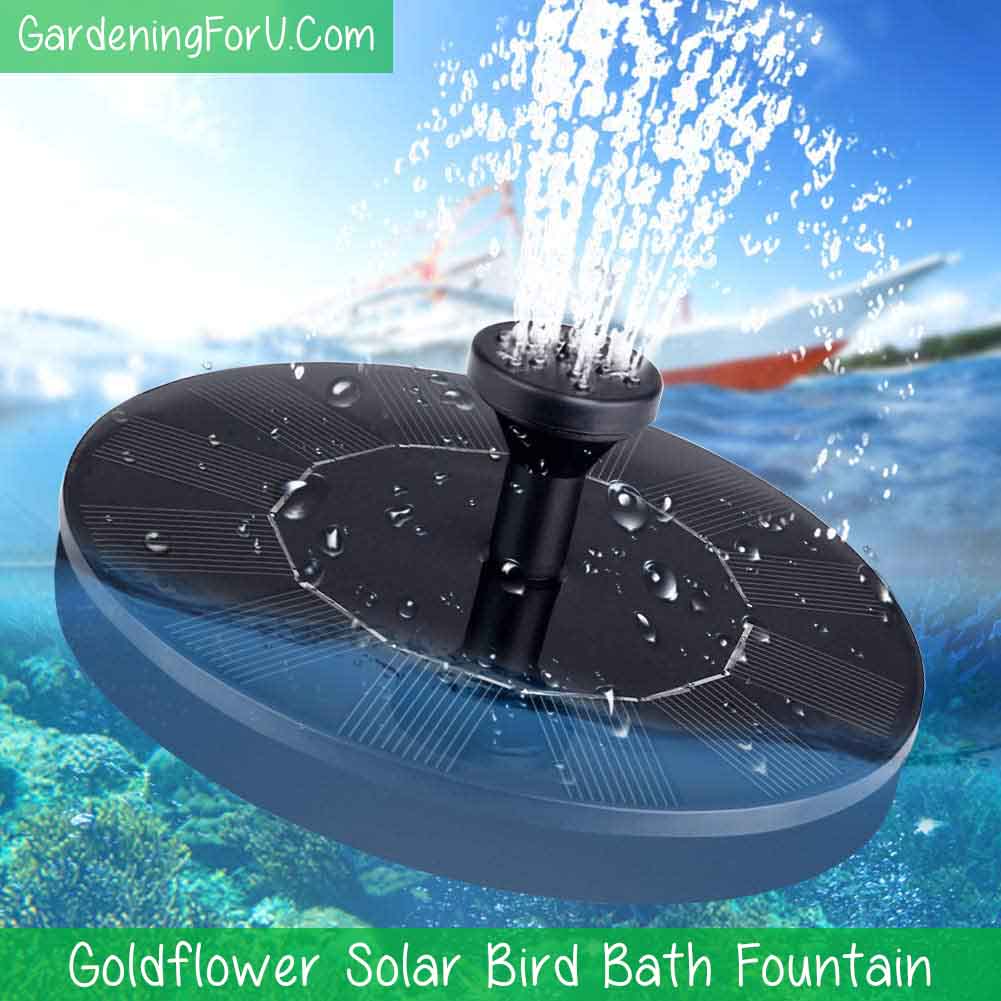 If your mind is on a durable and long-lasting solar water pump, this Gold flower solar bird bath fountain is the best option for you.
This solar pump and fountain are not only durable but do not require any battery or electricity either. In proper sunlight, the pump runs automatically in 3 seconds.
For better working efficiency, a full amount of sunlight is always needed. In full sunlight, the jet height will be up to 30-40 cm.
The pump has attached nozzle heads of 4 different types. Adjust the nozzles according to your wish to get your desired water patterns and jet height.
The solar fountain and pump have an operational lifespan of more than 10,000 hours. The solar water fountain pump has a brushless motor built-in that offers a longer service life and reduces electricity.
To Make sure that the solar water pump remains completely under the water and fill the fountain with sufficient water. Also to stop the pump from being blocked with dirt, make sure to clean the pump regularly.
As the pump doesn't store any energy, it needs to be under the sun every time. It only works when all the panels are exposed to the sun.
PROS
This product is eco-friendly
Moves easily around the water
Have multiple styles of sprayers
Long-lasting service life
Easily transportablen
CONS
Only works when fully exposed under the sun
Regular cleaning is necessary
4. HEYSTOP Solar Fountain Pump
Brand: HEYSTOP

Heystop solar Fountain Pump is for you if you are worried about getting low sunlight. The solar water pump runs continuously, even when the sunlight is dim. Because this water pump has an upgraded high-quality solar panel of 3.0 watts.
This solar floating fountain water pump has a built-in battery that automatically stores solar energy, as it requires no other energy and can be used one hour after dark it is very environmentally friendly.
For jet height or jet form, 6 different nozzles will meet your various needs. The height can be modified to prevent overflowing out of the basin by adjusting nozzles. The spray head can be easily changed.
The product has an automatic power-off system which keeps it safe from burning out when there's no water. It will start working as soon as it leaves the water.
The solar water pump has a longer service life. You can periodically clean up the pump to avoid it from clogging with dust.
PROS
Works under low sunlightn
The battery is very environment-friendlyn
Have multiple sprayers stylen
It has multiple application
Stops automatically if removed from the watern
Have a good service lifen
CONS
Doesn't have a consistent water flown
No filter to keep the water cleann
5. Ankway 2.5W Solar Fountain with 800mAh Battery
Brand: Ankway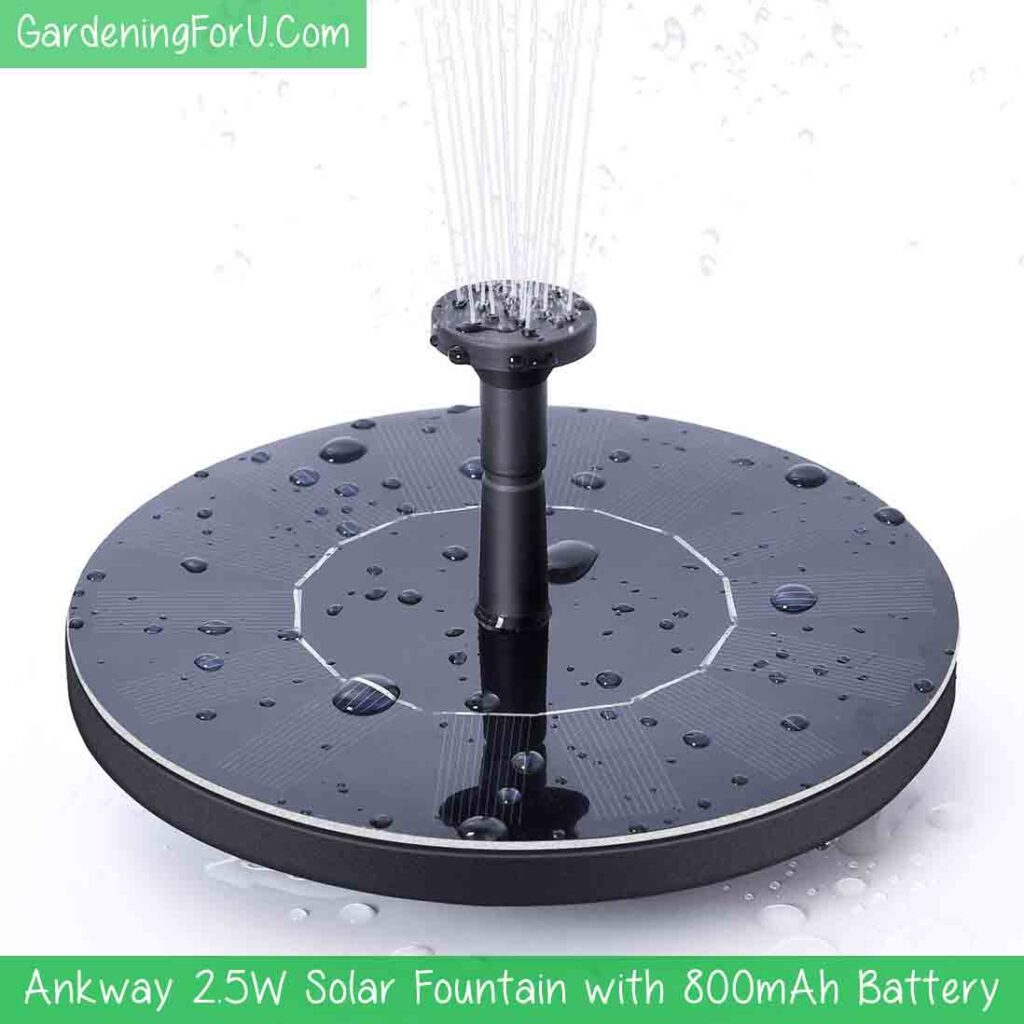 If you want a solar water pump with lesser effort, this pump is for you as it does most of the work automatically.
To cover 3-4 solar panels, this solar bird bath fountain panel utilizes a polycrystalline PET lamination process. The solar fountain's built-in battery will also have a steady current.
This product does not generate power bills. Its maximum charge lasts around 3-5 hours.
The solar panel fountain will automatically stop operating when the water level is lower than the safe level or is obscured by debris. This will largely prevent the burnout issue created by the dry operation of the pump. Consequently, it will extend the bird fountain pump's service life.
This bird fountain pump is fitted with a brushless motor that will increase the speed, decreases noise production. It also does not produce electrical sparks, eliminates losses, increases the output power, and enhances the solar fountain pump's service life.
To avoid water spraying on the exterior of the bottle, a new spray head has been installed. To change the water outlet mode and height as desired by adjusting the provided nozzles. This will attract many birds and look beautiful too.
PROS
Has an upgraded solar panel
Stops automatically to avoid burnout
Has an easy installation process
Saves a lot of energy
Noise level is close to none
Have different options for sprayers
Good customer service and provides professional manufacturing
CONS
Water spurts are high in every sprayer style
Even partial shade on panels can stop it from working
6. 1.4W Floating Solar Water Fountain Pump
Brand: Vermida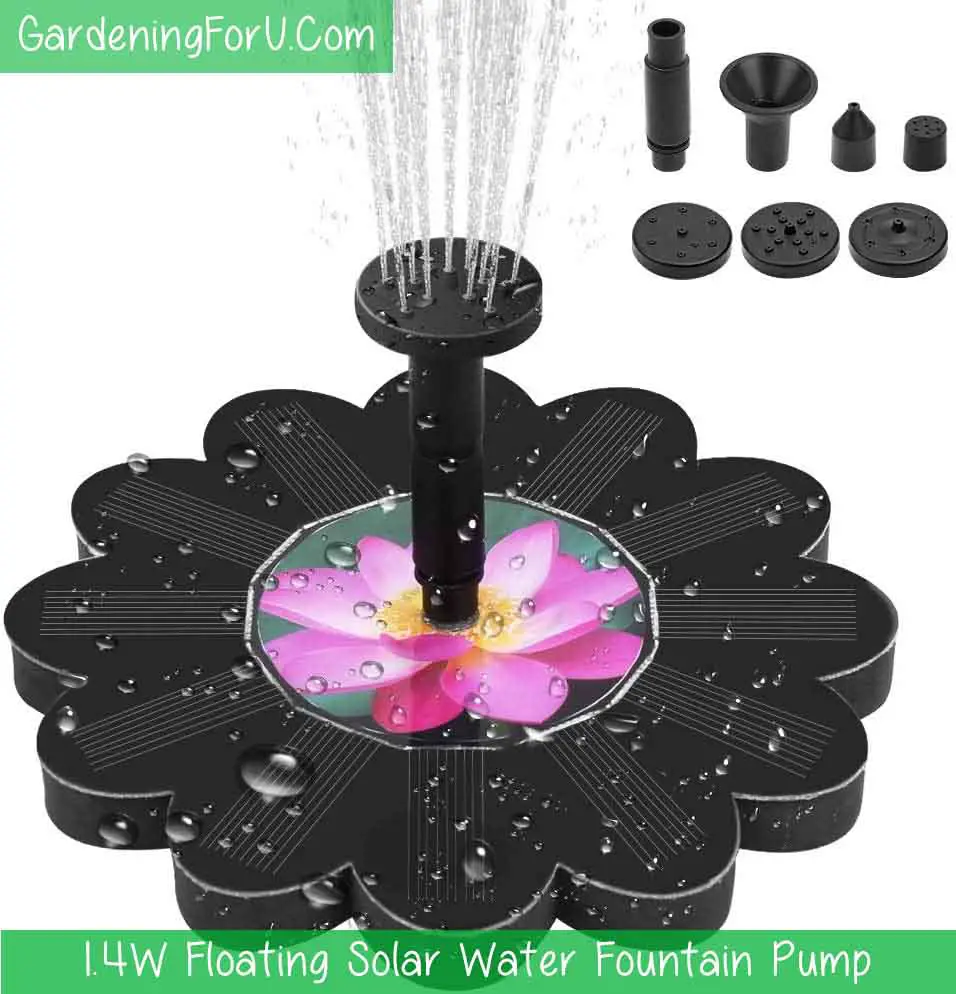 If you want a moving, floating solar water pump, then this fountain is perfect for you. And if you want healthier water for your fish, you will want moving water.
This solar garden fountain pump has a built-in battery, not separate. It is controlled with solar energy; It stores battery power for direct strong sunlight. If the sunlight is brighter, the pump will work better On cloudy days, it works normally as usual.
This solar bird fountain comes with 5 different kinds of nozzle heads. The nozzles can help in adjusting the water height in various water patterns. This helps in attracting birds.
The solar water pump will run on its own within a matter of seconds as soon as it gains sunlight. All you need to do is put the pump floating on the water's surface and keep it exposed to the sun. After that, the water will keep circulating for oxygen.
The water will spray up to 30-50 cm approximately on a sunny day, which will increase the pH of the water.
It is better to leave the solar panel under sunlight for around 1 hour before using it for the first time. Make sure to put enough water in the fountain for the pump to stay completely under the water.
To stop the solar water pump from being blocked by debris, you can clean the pump regularly.
PROS
Works on cloudy days toon
The height and patterns of water can be changed
Floats nicely on the water surface
Have multiple functions to usen
CONS
Leans in a side after a while
Needs support to stay put
7. Alpine Corporation FTC102 550-GPH Pump
Brand: Alpine Corporation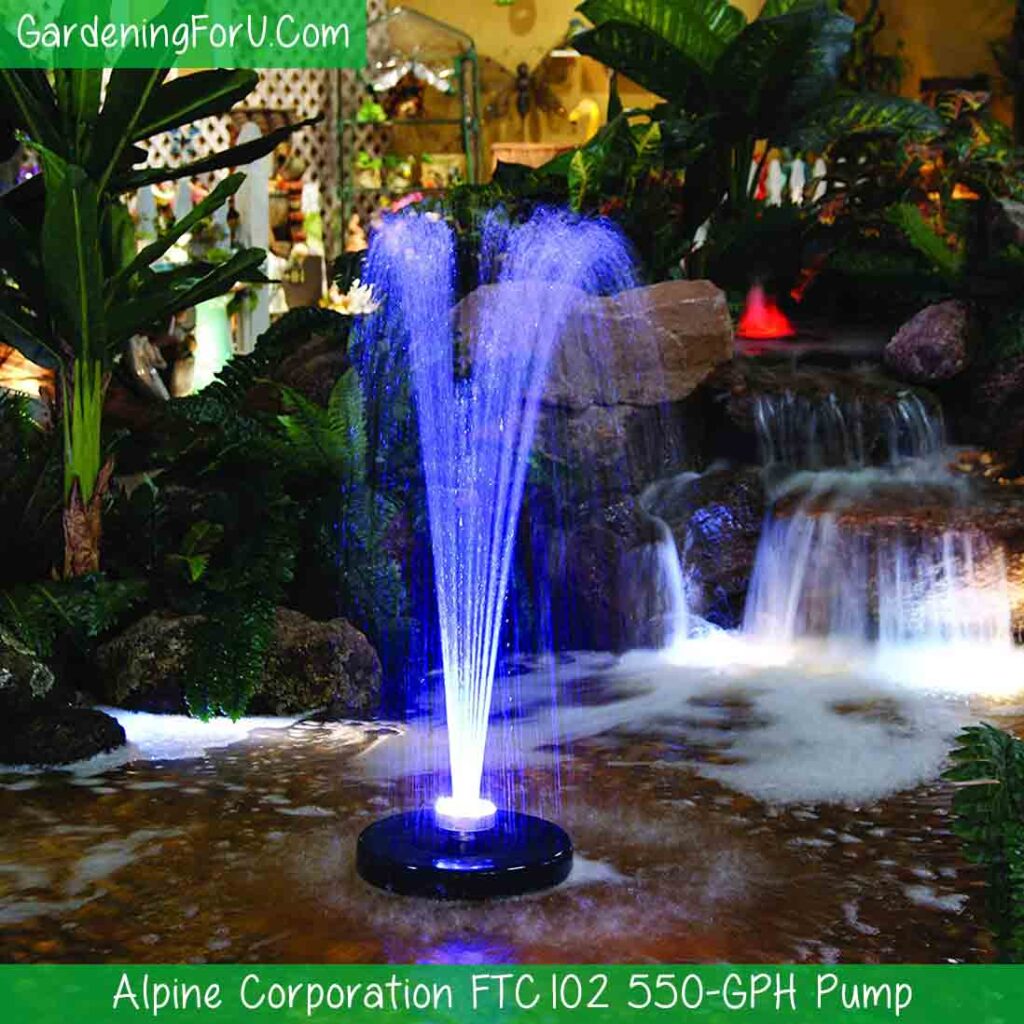 A festive-looking fountain, why not? This fountain is for you if you want a more decorative fountain in your yard.
The outdoor lighted spray fountain includes 48 LED lights which come in red, white, and blue color. This solar water pump keeps floating, which helps in creating an electrifying display of lights.
It has a submerged light ring. Installing this in the garden or backyard can be very good-looking and convenient as it has a 550 GPH pump and a 33-foot long cord. It also sprays water in 3 foot high and 2.5-foot wide range.
There are different connectors for the fountain pump and LED lamps, meaning the lights can be switched on or off individually as the fountain works.
The spray fountain contains all the required parts for easy assembly and comfortable service. The package includes a transformer, buoy, LED light ring, anchor, and pump.
It is perfectly floatable in any outdoor fountain with its 12-inch length, 12-inch width, and 6-inch height.
This light floating spray fountain comes with a one-year warranty after purchase.
PROS
Perfect for a decorative look
Has quick installation
User friendly and hassle-free
Have a one-year warranty
All parts are included
CONS
Very expensive for a fountain
Very hard to clean
Colors don't change consistently
8. Lewisia Battery Backup Solar Fountain Pump
Brand: Lewisia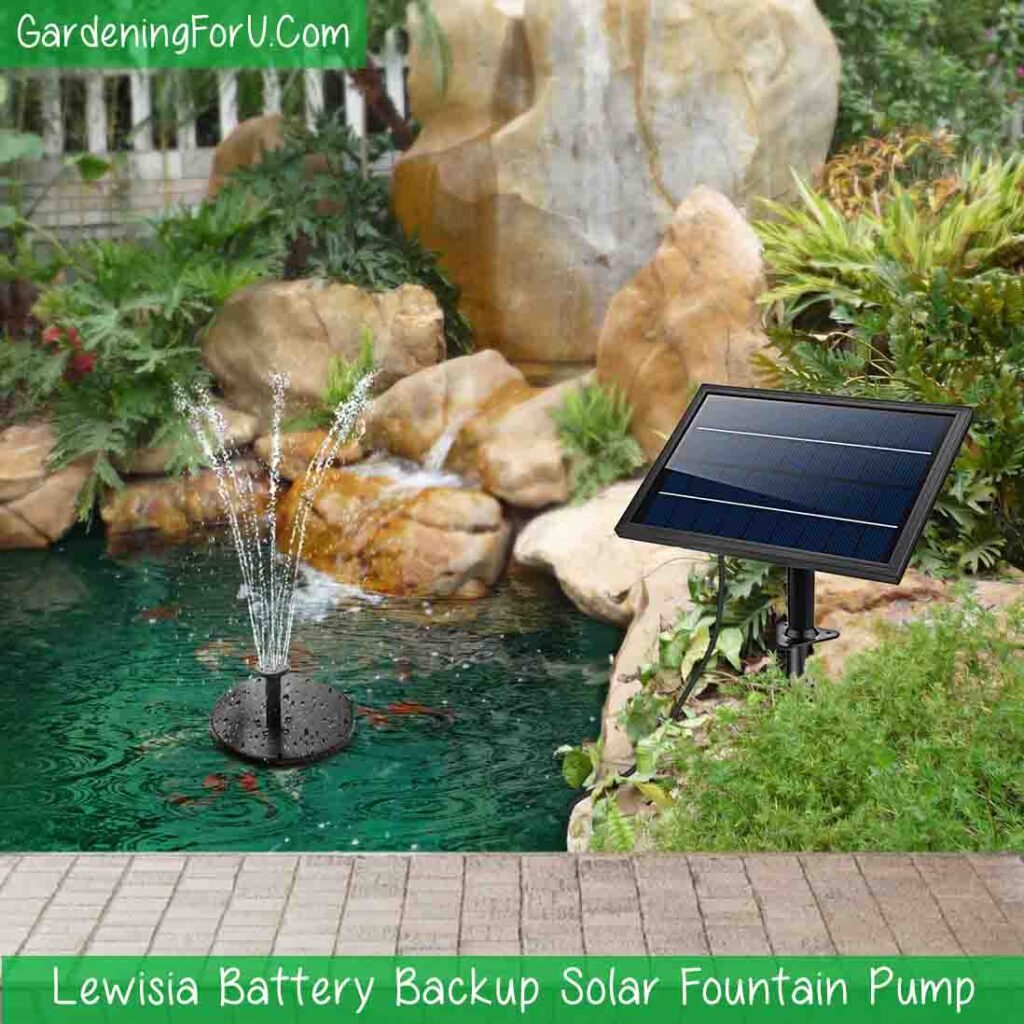 Solar power does not survive when there is no sun in the sky. But not to worry, Lewisia Battery Solar pump is a battery backed-up solar water pump. So it will not die even if the sun goes down.
The best thing about batteries is they will work in any situation. It will work at night and even on cloudy days.
The Battery is Li-ion 18650 7.4V/2200mAh. If it is charged for 8 hours, then the pump will work for 16 hours. Pro tip: let it charge for hours before first use. Also another thing, it only charges in the "ON" position.
There is another surprise in this solar pump. There are five LED lights! So don't need to mention that there will be extra light in your fountain.
There is a two-way filter box in it. So you can choose how you want to fit it in your garden. Let me tell you, you can float it on the water or submerge it into the water. It has three suction cups so it will easily submerge into the water.
The filer box is an expert use. It will eventually block the specs of dirt from getting into the machine.
A sensor is built into the solar pump. It works like a charm. The pump will stop automatically if there is no water. But then you have to reactivate it manually.
With its secure ground stake mount, keep the solar pump safe and sound.
Let me tell you about the structural feature of this solar pump. This pump is made of Polycrystalline silicone and ABS. The Maximum water height of this pump is 2.62ft/0.8m and the maximum quantity of flow is 53GPH / 200L/h.
Also, the bonus is this solar pump comes up with a Solar Panel, Ground Stake Mount, Pump with LED Light, Nozzle Adapter, Inserted Bar, Funnel Shaped Tube, and five Fountain Heads.
PROS
It has a built-in battery
The extra lights help at night
Have filter to avoid blocking of pump
Sensor automated turning off mode
Can be secured to the ground
CONS
Can take up to 24 hours to charge
The pump doesn't float
9. QIANJING Solar Bird Solar Fountain Bath Fountain Pump Upgraded 4-in-1 Nozzle, 1.4W Outdoor Free Standing Floating Solar Water Fountain for Bird Bath, Garden, Pond, Pool, Fish Tank, Aquarium (6.3 in.)
Brand: QIANJING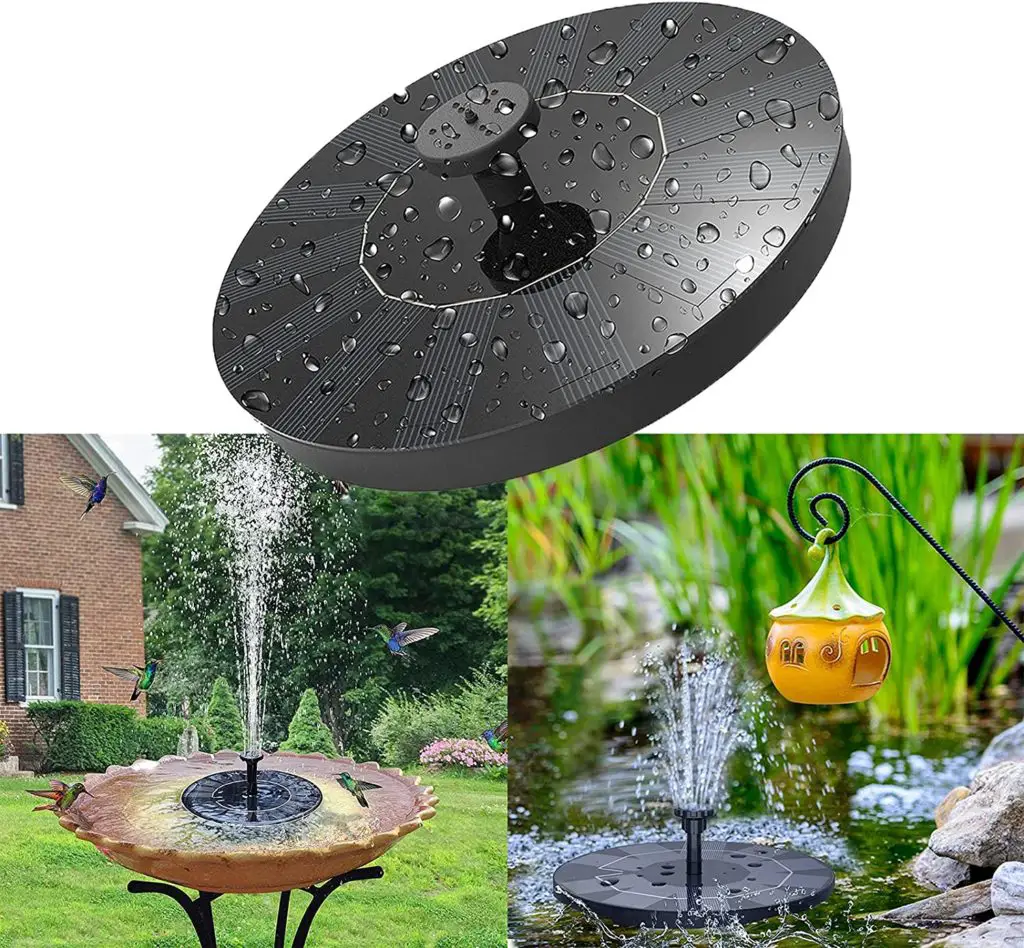 If you think you need brands that are consistent in providing professional manufacturing alongside upgraded solar pumps, this brand of water pump is for you.
This solar bird Solar fountain bath has an upgraded 4-in-1 Nozzle system with 1.4W battery power. It is useful outdoors. It is also free Standing and free-floating Solar Water Fountain for Bird Bath, Garden, Pond, Pool, Fish Tank, Aquarium (6.3 in.)
This fountain operates solely on solar energy. It doesn't require any electricity or a generator. Under sufficient light, it only takes 3 seconds to start working.
For the best performance, it needs to be kept under bright sunlight. This product can easily be moved to different places to use as your wish. It also saves money by saving additional costs.
Great solar fountain pump for fish tank, birdbath, lake, lawn, tiny pond, oxygen water circulation. It's very easy to use and efficient for beginners.
This Solar water fountain has four different styles of nozzle heads fastened with the pump. The nozzles can help adjust the height of water in various water patterns. The water spurts can rise approximately 30 to 50 cm in bright sunlight.
Once direct sunlight shines on the panels the pump will start on its own in a few seconds. Make sure the bright sunlight falls on the panel without any shade.
PROS
Decorates garden and ponds nicely
Easily useable
Very eco-friendly
Has several emitting of water styles
CONS
Have weak spray
All the nozzles work the same
10. Flantor Artificial Floating Foam Lotus Flowers with Solar Power Water Pump, Realistic Water Lily Pads Decor for Pond Home Garden Patio Aquarium Wedding Party and Swimming Pool (Purple)
Brand: Flantor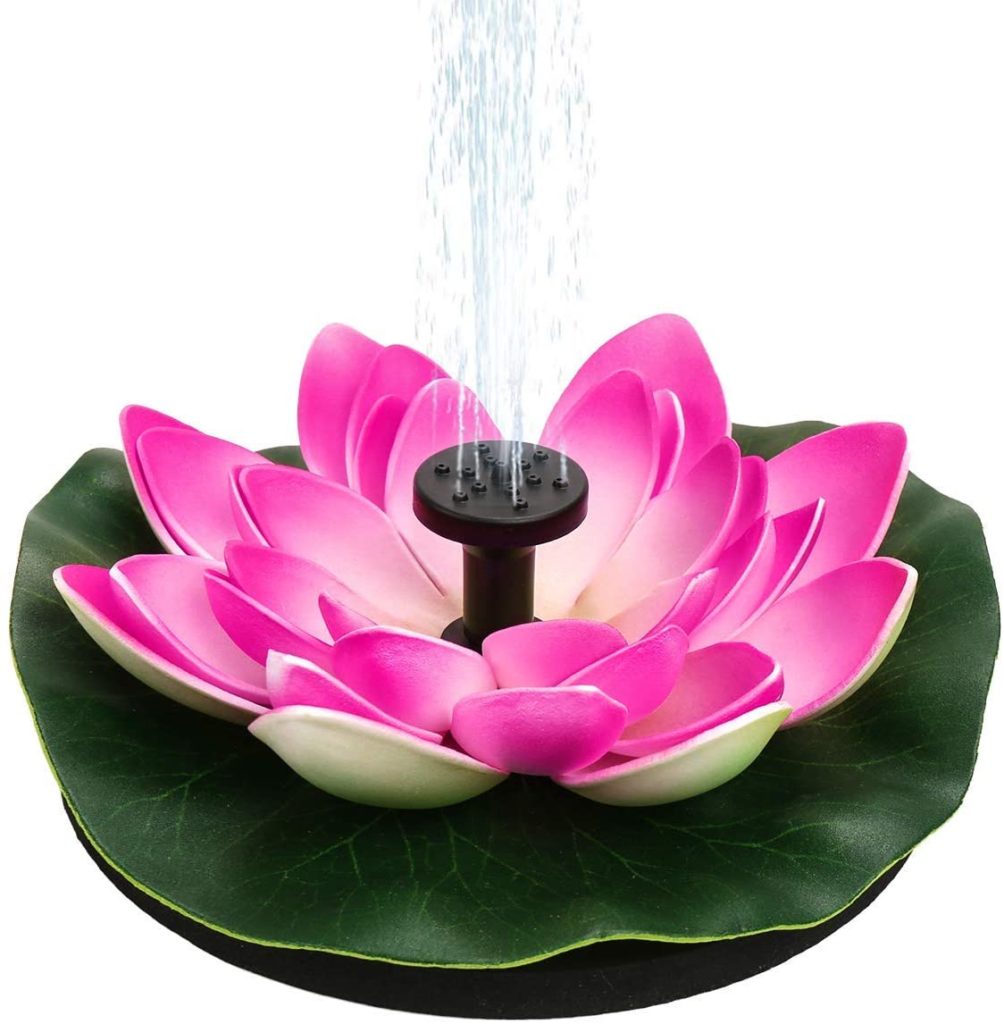 Decorative and camouflage-style fountains are the favorite for small fishes. This fountain will be especially appealing to little fishes and frogs and the eyes of passersby.
The size of this pump is 6.3 inches/16 cm in width, 6.3 inches/16 cm in length, 3.15 inch/8 cm in height, and -315 grams /0.69 lb in weight. It is made from smooth, lightweight plastic foam that is durable.
It can float nicely in water. It will be perfect for gardens and outdoors, as animals like to frolic and drink flowing water. Also, it'll be just the perfect thing for your garden wedding party.
The fountain shields the pump and protects it from the harsh water flow.it is very lovely and lightweight too.
This product is suitable for both outdoor and indoor uses. The flow of the water from the fountains moving around would help the fish generate more oxygen from the environment.
Frogs and Kois love to hide for protection among the plants and it is suitable to provide shelter for fishes as they always search for covers. In summer, they will be a sanctuary for a lot of little birds and animals.
They operate on practical use and can be cleaned in a few moments.
PROS
Aesthetically beautiful
tEco-friendly product
Easily cleanable
Helps to create oxygen flown
CONS
Cheaply made and looking
The fountain pump gets temperamental
FAQ's
1. How can I pump water without electricity?
You can pump water without electricity by using solar water pumps. They need no external energy but the sun. Solar Pumps have solar panels attached to them which absorb sunlight and convert it into electricity. This electricity is then transferred to run the solar-powered water pump.
2. What is a solar water pump?
A solar water pump is an electrical pump, but in this case, the electricity is provided by PhotoVoltaic (PV) panels. The solar panels catch the sunlight and convert it into energy to provide electricity for the pump.
3. Which solar pump is better than AC or DC?
An AC solar pump is better because it has higher efficiency and low cost.
4. How many solar panels do I need for a 1hp motor?
In full sunshine, you need 3 solar panels for a 1hp motor. But since full sunshine is a rare case, approximately 6 solar panels are needed for a 1hp motor.
5. How many solar panels does it take to power a water pump?
To power a 100-watt water pump, you will need 5 solar panels. And to power a 300-watt water pump, you will need 15 solar panels.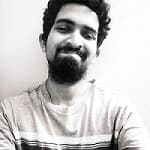 Hi, I am Rahat Rubayet. I am an entrepreneur and A gardener by Hobby. I created This website to help people like you, who want to make the world greener and want to leave it as a better place for our next generation.