What is a hydroponic gardening kit?
Do you know that you can grow plants without soil? Well, that is what hydroponic gardens basically are-growing plants in water. If I want to explain this to you in a more professional tone then I have to say, hydroponic gardening is a method of harvesting plants in water with nutrients and mineral solutions. In this process, any kind of soil is not needed.
The interesting fact is plants grow 20% faster in water than soil and also you don't have to worry about weeds, pests, or diseases. Now as it is a different kind of system than the usual method different types of gardening kits are needed for hydroponic gardening. The most popular hydroponic gardening kit is the hydroponic system.
You will find many different kinds of hydroponic systems in Amazon. These systems come with seeds, nutrients, LED lamps, controlling sensors, etc. A typical deep water culture system is currently the most popular method for hydroponic gardening.
In this system, there is a reservoir inside the vase which is filled with nutrients. In hydroponic gardening, you don't need to worry about the pasts but a good quality pH solution is needed for the water. 
Top 10 Indoor Hydroponic Gardening Kits
What is the best hydroponic system for beginners?
AeroGarden Harvest Elite 360 – Stainless Steel
Brand: Aerogarden
Aerogarden classic bounty is the best hydroponic gardening tool for beginners. It is a deep water culture and this kit comes up with everything you need to start hydroponic gardening. This looks modern and stylish. You can place it in your office or on the top of your kitchen counter.
You don't need to go through any hassle or buy any tools to start harvesting. You just need to assert the things into the slots and it will be ready to go. There is a reservoir inside the system and it exposes the roots to well-balanced nutrients and minerals.
There is a LED light on the top which helps the plant to do photosynthesis. The control panel will give you updates and remind you of what to do. The best thing about this kit is this is so easy to use and there is no room for any mistakes. 
Best Hydroponic gardening kit under $50
Hydrofarm RS5GALSYS Root Spa Deep Water Culture Bucket System
Brand: Hydrofarm
Are you worried about the budget when looking for a hydroponic gardening system? Then you don't need to worry anymore, the hydro-farm deep water culture system is the best for beginners and it's not that costly.
This kit comes with a 5-gallon bucket that will hold your plants, grommet fitting, elbow fitting, and black tubing. It has a multipurpose air hose that delivers the air from bottom to top. The problem is it does not have any LED light so you need to keep it in a place where sunlight comes.
Some users have reported that the pump is not so durable and the products do not fit tightly together in the bucket.
Homend Indoor Hydroponic Grow Kit with Bubble Stone
Brand: Homend
Do you want to start your hydroponic gardening journey by growing a lot of plans together in one system? Then Homend Indoor Hydroponic Grow Kit with Bubble Stone is the right hydroponic kit for you.
This kit comes up with Box,  Buoy Deck, Buoy, Planting Net Pot, Planting Sponges, Air Pump, Bubble Stone,  Check Valve, One set  Silicone Hose, Tweezers, and an English manual.
Also, you can grow up to eleven plans here and the growing time is super fast according to the nutrients and climate. The English manual comes up with illustrations so you can easily understand what you will have to do. Also, it is best for indoor and outdoor, so you can keep it anywhere you want. 
Terrarium container
Brand: Ivolador
If you want to decor your hydroponic plants into glass containers, these beautiful products are for you. They come with a hanger and three different kinds of shapes. The hanger is 3.3 feet of rope, perfectly convenient for use in your bedroom, kitchen, or living room.
The containers are heat resistant and made with high quality borne like. The water drop, triangle, and diamond shape containers are sure to bring aesthetic beauty and purity in your house. Also, they come with safe packaging and tweezers. So no need to worry about broken glasses too!
Hydromerce: Grow Tub
Brand: Hydromerce
Are you searching for an indoor hydroponic gardening system that will be within your budget? Then you can buy this Hydromerce grow tub which is super affordable.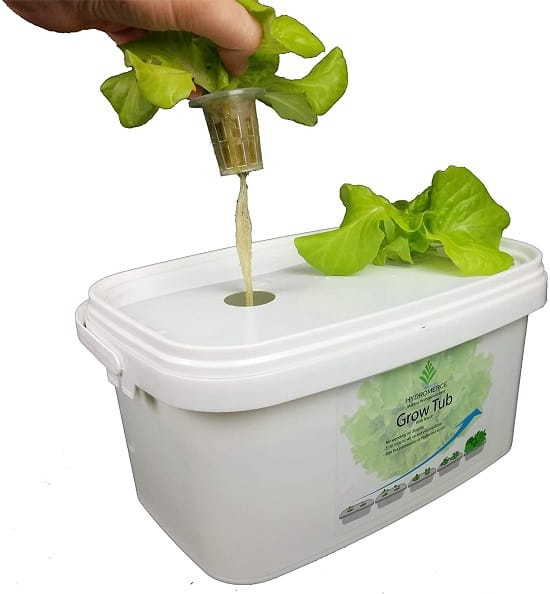 This is a complete indoor hydroponic growing system. It has nutrients and minerals, lettuce seeds, and a pH adjuster included in it. The plant generally grows in four to six weeks.
The best part is you don't have to do anything after setting it up properly.
This is the only hydroponic kit available that gives a pH adjuster in the package so that one can control the level of pH.
If you don't have a big suitable place to start hydroponic gardening then you should buy it. Cause the tub is medium-sized and does not require much space. 
LED Plant Grow Lamp
Brand: Ergo Life
The thing about hydroponic gardening is the plants need a light source as mostly it is harvested indoors. Generally, the lamps are costly to buy but now the ergo life has come up with a budget-friendly LED lamp.
This will make your indoor hydroponic gardening easier. This has a touchpad sensor and adjustable dimmable brightness where you can control the light. You can use this lamp to grow plants all year round.
There is a basin attached to this lamp and the basin has a top cover. Also, this lamp comes with free nutrients that you can use for three months, one plant sponge, and one planting basket. 
Growgreen HT0001GN
Brand: Growgreen
This growgreen technology specialized from hong kong is a special addition to the world of budget-friendly hydroponic kits. This tube has space for six plants in it.
It does not come with any form of instructions, nutrients, minerals, pH adjusters, or seeds. But it comes up with an instructional video where you can watch how to set up this thing.
This kit comes up with a colorful external air pipe that also has a USB, twelve sponge plugs, air stone, and a pipe. The pump is there for saving the water and getting the nutrients through the tube. 
Freehawk Hydroponic System Growing Kit
Brand: Freehawk
This is an indoor hydroponic gardening kit that is made of durable solid plastic. This is super environmentally friendly and safe to use. This kit has six halwa in it which makes the water flow easy. Also, the water is enriched with nutrients and oxygenated which directly goes to the root and speeds their growth.
The materials of this kit including the planting basket, basin cover, and water seeding basket; all these things are made with a special kind of plastic which prevents the light from entering into the basin and this eventually helps the green algae to form into the basin.
Best Hydroponic Gardening Kit under 100$
AeroGarden Black Harvest Indoor Hydroponic Garden, 2019 Model
Brand: AeroGarden 
Do you want a modern hydroponic kid in a moderate budget? Then Aerogarden's black harvest indoor gardening kit is the one you are searching for. It's a full homegrown gardening system where you can harvest foods all year long.
Moreover, it comes up with a gourmet herb seed kit and the seeds for one full season. There is a place for six plants in it and it is made pretty simple so you don't have to worry about the mess. The best thing is that it has a control panel and a touch sensor.
The control panel will tell you when to add water and food, it will automatically control the LED light and it will not let the water touch the LED light.
Hydroponics Smart Garden Light
Brand: Chee Mong
Chee mong's smart gardening kit can be a new addition to your home. It will increase the freshness and beauty of your house.
This kit has a smart LED glowlight which will keep the plants fresh and alive and the light is easy to control through the control panel.
It will give you a water shortage reminder. Plants' roots can rot because of overwatering but this kit will give you reminders and beep red flashlights if the water level drops in the basin.
In this way, you don't have to worry about the rotten roots. Also, this kit includes PCS planting medium, transplanting gardening tools, and 17W ultra-low power.
INTBUYING Wall-mounted Hydroponic Grow Kit
Brand: INTBUYING
Hydroponic gardeners' favorite kit is where they harvest hydroponic plants on a large scale. Generally, a large hydroponic kit requires a high-end budget. But no worries now, Intbuying's wall-mounted hydroponic kit is there for you. This kit is especially suitable for vegetables like lettuce, cabbage, cauliflowers, etc.
It has six pipes and each pipe has nine holes. Also, this kid comes up with fifty-four planting baskets, a hose, a planting sponge, and a deep well pump. You can harvest the plants here all year long and the harvesting time generally needs thirty to sixty days.
Premium Heated Propagation Kit
Brand: Super Sprouter
This premium propagation kit is a complete solution for your plants germinating and seeding system. This kit will provide the plant's heat which will accelerate the growth of plants.
This kit has a super sprouter clear vented dome with built-in channels, also it has glow light for the channels, a double-thick tray with no holes in it, super sprouter heat mat.
Also, you will get a propagation booklet where you will get the instructions about how to start the germination process. This kit will be great for winter and indoors.  
Best Hydroponic Garden Kit under 150$
Hydroponics Growing System
Brand: E SUPEREGROW
If you want a hydroponic gardening kit where you can grow your vegetables firstly then this is the kit for you. You can grow your vegetables anywhere you want which includes your home, office, school, terrace, railing area anywhere you want.
The best part about this kit is this comes with a solar panel and you don't need to give it extra power. As this does not require power this is super environment friendly. Also, this kit includes climbing trails and a dual superpower way.
You can pump the motor using the dual power way. This system has a smart control and you can control the pump through this.
King Plus 1200w LED Grow Light
Brand: KingLED Store
If you want an affordable LED light within your budget then King Plus 1200w LED Grow Light is the one for you. This LED light is specially designed for giving light to plants and flowers. This has a double light switching option.
Blue LED and white LED is called the Veg switch and the blue LED used for the vegetables. White LED is used for germinating the seeds. There is another kind of switch which is called bloom switch.
This bloom switch and veg switch both can be used for flowers. It has an advanced cooling system, so you don't have to worry about your plants getting burned at a lower temperature. Also, this light has a full spectrum lighting system and the spectrum of the lighting will change according to the plant's growing system.
Hydroponic Grow Tent
Brand: Melonfarm
MELONFARM's Reflective 600D Mylar Hydroponic Grow Tent is the best for hydroponic farming. This tent has two sections; one is a growing section and another one is a nursery section.
Once you cultivate the seeds in the nursery section, you can transfer the seeds in other sections. The good thing is the material that has been used in this tent is strong and durable so you don't have to worry about its duration.
This kit contains polyester film inside and the film's reflexivity is up to 100%. Because of this reflectivity, this can easily absorb light, reflect the light and this reflectivity accelerates the growth of plants.
600 Watt HPS MH Digital Dimmable Grow Light System Kits
Brand: iPower
Hydroponic gardening is mostly done inside the indoor and a good quality light is needed for the plants. iPower's digital dimmable grow light system is perfect for this thing. This supports 120 to 240 high voltage and also it has stable power output so the light will not flicker.
It has a light dimmable option so the light can be dimmed into 25%, 50%, or 75%. Also, it has highly reflective aluminum foil inside so that the light can be reflected upon the plants. But this kit needs to be put into a room which has proper ventilation or else it will produce too much heat.
PowerEZ Solar Water Pump Kit
Brand: PowerEZ
This PowerEZ solar water pump kit is perfect for hydroponic gardening but it can be also used in fish tanks, small ponds, or garden decoration. It does not have any battery backup cause it can be powered through a social panel and it has a rechargeable battery.
This has a built-in brush function which will ultimately require lower power consumption. This water fountain pump has two spray heads and you can customize them with your preferred design.
Also, this water fountain has a life span of twenty thousand hours and is 100% refundable if it does not meet up with your expectation.
Best Hydroponic Gardening Kit under 200$
Indoor Grow Tent
Brand: TopoGrow
Topogrow's indoor grow tent is a very useful kit for indoor gardeners cause gardeners can use its different sections for different usage. Mainly it has two sections: one is for propagation and seeding and another one is for blooming flowers.
The materials that have been used in this tent are strong and durable. The outside cloth is made with 600d oxford cloth and the inside is covered with aluminum foil which is 100% reflective. There is a ventilation system inside this tent which will help to get the plants proper ventilation.
HPS Digital Dimmable Ballast Grow Light System Kits Horticulture Air Cooled Reflector Hood Set
Brand: I-power
The price of these sets depends on the power you are choosing. 400 watts is the lowest power range and 1000 watts is the highest. They are dimmable in different intensities. Power output stability and heavy-duty power cord all are managed in this set.
They will make sure your plant grows well by their optimized spectrum and high PAR features.they are made in such material that will make sure your plants get the best possible light. These products need ventilation or have a possibility of overheating.
1000W LED Plant Grow Light 
Brand: Mfnyp
It has a dual cheap formula that gives your plant more light than the usual growing lights. It has higher energy too, which is also good for hydroponic plants. This growing light has 2 different options.
Veg
Blooming
There veg works for seeding, germinating, and growing young plants, bloom comes in handy while the plant starts flowering and fruiting. 
The blue and red intensity range makes sure to deliver output as your choice. This has an amazing cooling system with two fans that make no sound. so even though your plant is getting the lights, the overheating won't cause harm.
Its coverage for the veg option is 4 feet by 4 feet, for blooming is 3 feet by 3 feet and for fruiting is 2 feet by 2 feet. they also replace you if your product has any issues from the beginning. So it's one of the best choices of growing lights.
Frequently Asked Questions
Conclusion
Hydroponic gardening is the new revolution in the field of agriculture and in general. Nowadays when humans are constantly confiding them into a little space with four walls which we call "home", these little bits of green can be the touch of liveliness in their life.
So whatever kits you choose, whatever method you follow, just start harvesting this green happiness. Happy Gardening!