Apollo Horticulture is a leader in the hydroponic industry. They are known for their quality products and customer service. One of their most popular product lines is the Mylar Hydroponic Grow Tent which features a 36″ x 36″ x 72″ design.
This tent can hold up to 400 watts of lighting, making it perfect for cannabis plants, lettuce, or your favorite flowers! 
We will tell you why what is a hydroponic grow tent, why should you buy Apollo Horticulture grow tent, things to consider when buying a hydroponic grow tent.
Apollo Horticulture 36 x36 x72 Mylar Hydroponic Grow Tent is a hydroponic grow tent that provides an optimal environment for plants to flourish. It comes with high-quality mylar, which makes it durable and prevents light from escaping through the fabric.
The Apollo Horticulture 36 x36 x72 Mylar Hydroponic Grow Tent features excellent air circulation so your plants stay healthy. This grow tent also has a lot of room inside so you can fit all of your equipment in there!
What is a hydroponic grow tent?
A hydroponic grow tent is a structure that creates a contained growing environment with airflow and light. Hydroponics is a method of soil-less plant cultivation where the roots are bathed in nutrient water.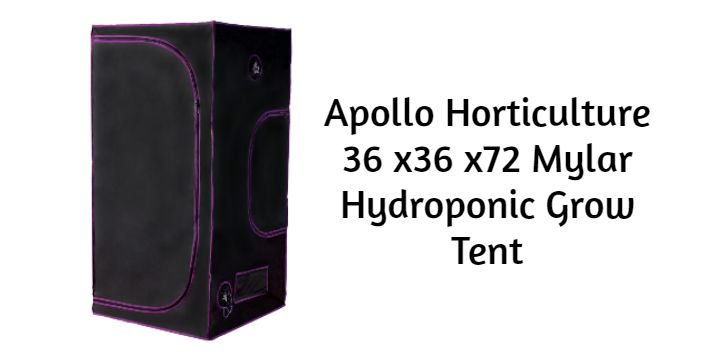 So, it can utilize the nutrients to produce food rather than use its energy to extract them from the soil. This means plants grown hydroponically need less water, less space, and use fewer fertilizers than those grown in single container gardens.
Why buy a hydroponic grow tent?
You should buy a hydroponic grow tent because it is productive, cost, water, and space-efficient, labor-saving and have a higher turnover than any other cultivation method.
Hydroponics is one of the few forms of agriculture that specializes in high-tech and high-yield production. At the same time, it lowers or eliminates its environmental impact on our ecosystem with less need for pesticides, use of chemicals, or watering.
Things to consider when buying a hydroponic grow tent?
There are a number of features to take into consideration when purchasing a grow tent. 
Perfect size of the grow tent
Durability of the grow tent
Material used for grow tent
observation window
Large door openings
Removable floor trays 
The Apollo Horticulture 36x36x72 Mylar Hydroponic Grow Tent is perfect for any type of plant – herb, vegetable, and flower alike. Whether you are just starting out or have been growing for years.
What does the package include of Apollo Horticulture?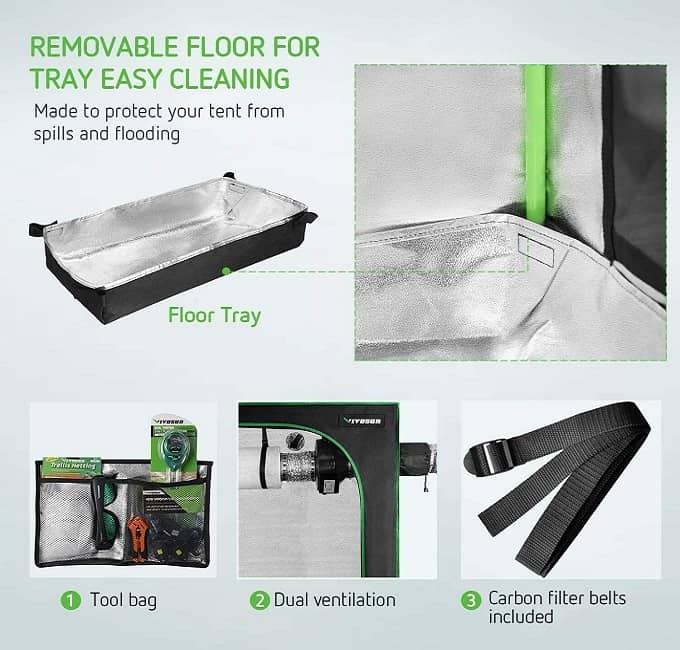 Apollo Horticulture Grow Tent comes in the package
Obviously the 36"x 36x 72" sized grow tent comes in the package. But you need the other stuff as well to make it work.
Removable Mylar Floor Tray
Removable Floor Tray is at the top of necessities for successful grow tents. Apollo Horticulture Grow Tent comes with a removable floor tray that can be cleaned in a matter of minutes and reused without any difficulty.
Filter Straps Included in the package
It is important to have a proper ventilation system in the grow tent. Filter straps are necessary for that and Apollo Horticulture Grow Tent includes two of them with the package so you can just install it right away without any hassle or complication.
Instructional Pamphlet also comes with the tent
An instructional pamphlet also comes with the tent so you can read it and understand all necessary information about installation, ventilation, light requirements, etc. The instructions are pretty easy to follow.
If you have any questions or issues that come up during the installation process then there is a phone number on the package for Apollo Horticulture customer service where they will answer your
Why should you buy Apollo Horticulture?
High Quality 
These hydroponic tents are made of high-quality materials. The reflective mylar lining will help reflect light back to your plants, allowing for maximum growth and yield.
Highly Reflective
Our grow tent material is highly reflective on the inside and outside surfaces. This means that your plants will be able to absorb more light than other brands, giving you bigger yields!
The reflective mylar lining will help you maximize your light's output while keeping the temperature low and providing a professional finish to your grow room.
Easy Assembly
Don't waste time trying to put together a complicated tent! This tent is easy to assemble, so you can spend more time growing your garden instead of assembling it.
Heavy-duty Zippers 
You'll be impressed by the quality and durability of their heavy-duty metal zipper. They're designed to last, so you can focus on your plants without worrying about zipper failure.
Double Stitching For Light Protection
These indoor grow tents are secured with double stitching for light protection. No more worries about light leaks or pesky insects sneaking in!
Effective
Apollo Horticulture tents are made of 100% light-proof and tear-proof reflective Mylar film. It blocks around 97% of your grow lights, so you can have a successful indoor gardening experience with no tension about your electricity bill at all.
Lightweight
Apollo Horticulture Grow Tent is lightweight and can be used in many different ways. it weighs 7 ounces.
90-day Warranty
This Apollo Horticulture Mylar Hydroponic Grow Tent is backed by a 90-day warranty. If you're not happy with the quality, they'll make it right for you!
Top Customer Care
The customer care team is always available to answer any questions or concerns that may arise regarding their products and services. Their top customer care ensures that we provide the best service possible!
FAQ
What are grow tents made out of?
Grow tents are typically made of durable, heavy-duty materials that resist water but still allow for good airflow. The types of materials used vary based on the manufacturer's needs or preference but usually grow tents are made out of vinyl, canvas fabric sheeting. It can be polyester or nylon-backed vinyl films, which offer a laminate type construction and have some adhesive qualities.
How Solid Are Grow Tents?
Grow tents are a reliable and tedious option for many indoor growers. Made from materials such as nylon (a synthetic chemical that is usually coated with polyurethane to protect against UV damage) grow tents can be heated by the lights inside of them, without their effectiveness decreasing drastically.
What size grow tent do I need?
If you want to grow 1-2 plants, you will need a 2'x2′ grow tent. And for 3-4 plants, you should get a 3'x3′ and for around 6 plants, you will need an 8'x4′ grow tent.
What size LED light for 3×3 to grow tent?
We recommend using a 200 watt LED light. A smaller light might not provide enough power for plants to grow properly.
Conclusion
If you're looking for a grow tent that can accommodate all of your needs, then the Apollo Horticulture 36 x36 x72 Mylar Hydroponic Grow Tent is perfect. This hydroponic grow tent has more than enough room to house any size plant or garden and comes with everything you need to start growing right away! The durability of this product will ensure it lasts long past the initial purchase so if you want an investment in gardening equipment that pays off.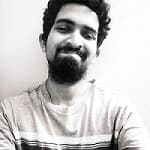 Hi, I am Rahat Rubayet. I am an entrepreneur and A gardener by Hobby. I created This website to help people like you, who want to make the world greener and want to leave it as a better place for our next generation.