Nature is so attractive, isn't it? Perhaps that's why some people take a fancy to decorate their household or workplace with various plants and flowers. When you enjoy decorating your living place with various plants and flowers, you must feel the wish of having a good number of standard vases.
But in this article, we aren't going to talk about general flower vases. In fact, we are going to know and discuss different types of Ikebana vases in this article. If you're familiar with the term "Ikebana" then you must know the value and aristocracy of it.
Ikebana vases are different from regular vases by appearances. Though they follow a similar pattern among themselves, yet they look different from each other. Needless to say, the style or design of ikebana vases relies on who's designing them. 
What is Ikebana?
"Ikebana" is originally a Japanese term for a specific genre of flower arrangement. It's a kind of Japanese floral arrangement that integrates blossoms, branches, leaves, and stems. They were first invented in the 7th century and still to this day ikebanas are considered an impressive form of art in Japan.
As mentioned above, the word Ikebana is a Japanese word. The word "Ikebana (生け花 or 活け花)" means "Arranging flowers" or "Making flowers alive." Ikebana is a combination of the words "Ikeru (生ける)" and "Hana (花)." 
The word "Ikeru" means "To arrange" or "have life." "Hana" means "Flowers." So, the final translation for the term Ikebana is close to "Giving life to flowers" or "arrange flowers."
7 Best Ikebana Vases Reviews
Here we are reviewing 7 of the best Ikebana vases for you. 
1. Georgetown Pottery Small Round Ikebana Flower Vase, Blue Wave Review
Georgetown pottery small round Ikebana flower vase's Blue Wave version is made in the USA and it's nationally known and sold in the galleries, gift shops, and showrooms nationwide. Its appearance along with the color and design is enough to soothe the eyes.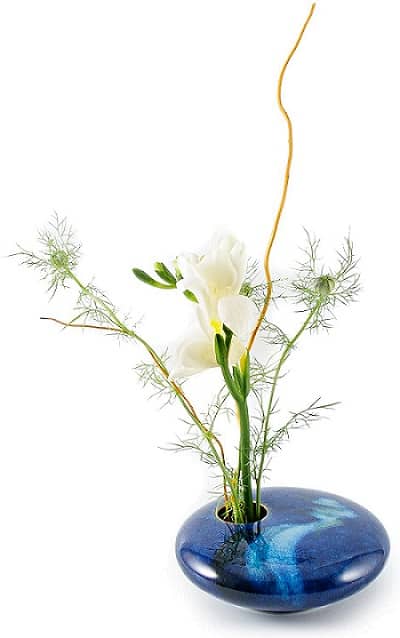 The Georgetown pottery blue wave vase is made from high-quality porcelain clay. It's handmade and also decorated personally by internal artists at the pottery studio of the producers on the coast of Maine.
The design of the vase is so simple yet so refined and fashionable. You can create a pleasing and charming floral arrangement with just a few flowers so easily. Additionally, the pin frog impressively prolongs the lifespan of the flowers up to more than 2 weeks. 
Features of Georgetown Ikebana Flower Vase, Blue Wave
Made from porcelain clay.
Shape: Round.
Color: Blue.
Installation Type: Freestanding, Countertop.
Measures 4 3/4″ in diameter.
Weight: 16 ounces.
Pros and Cons of Georgetown Ikebana Flower Vase, Blue Wave
Pros
Cons
Simple, smooth, and stylish.
Extends plant's lifespan.
Easily arrange flowers in it
None. 
2. Georgetown Pottery Small Round Ikebana Flower Vase, Dark Purple Zen Review
Georgetown Pottery Ikebana Vases are simply designed in a tasteful and modish way. The surface is polished so smoothly and glazed. The Georgetown Pottery Ikebana vases are separately glazed, decorated, fired in our kiln at 2500 degrees.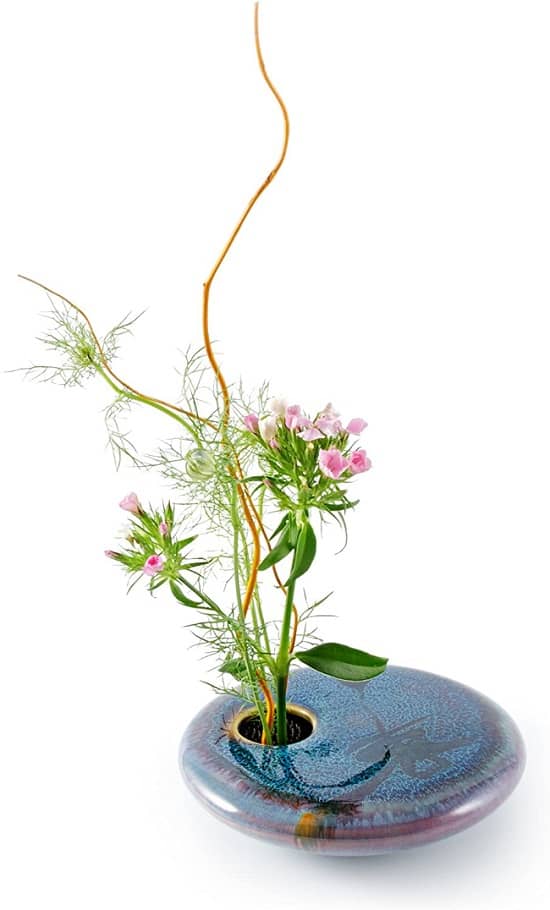 As purple is known as one of the royal colors, the ikebana container spreads a royal aura. It's suitable for anywhere in the household including bedroom, study room, you name it. The dark purple color of the vase really lights up the mood of a room and sets a pleasant vibe.
The vase holds a pin frog inside itself. It highlights all the flowers equally so that you can make a beautiful arrangement even with a few numbers of flowers. Additionally, it extends the life of the flowers. Some flowers stay fresh for up to 3 weeks in it.
Features of Georgetown Ikebana Flower Vase (Dark Purple Zen)
Made from high-quality porcelain clay.
Small and round.
Glazed, smooth surface.
Pin frog included.
Color: Dark purple.
Installation Type: Freestanding, Countertop.
Measures 4 3/4″ in diameter. 
Weight: 15.2 ounces. 
Pros and Cons of Georgetown Ikebana Flower Vase (Dark Purple Zen)
Pros
Cons
Beautiful and charming.
Small and smooth.
Easy to arrange flowers.
Help flowers get longer lives.
None.
3. Georgetown Pottery Small Round Ikebana Flower Vase, Black Wave Review
Once again Georgetown pottery presents you a gorgeous small flower vase in Black color. The glazing black colored ikebana vase will increase the beauty of your household or your room wherever you place them.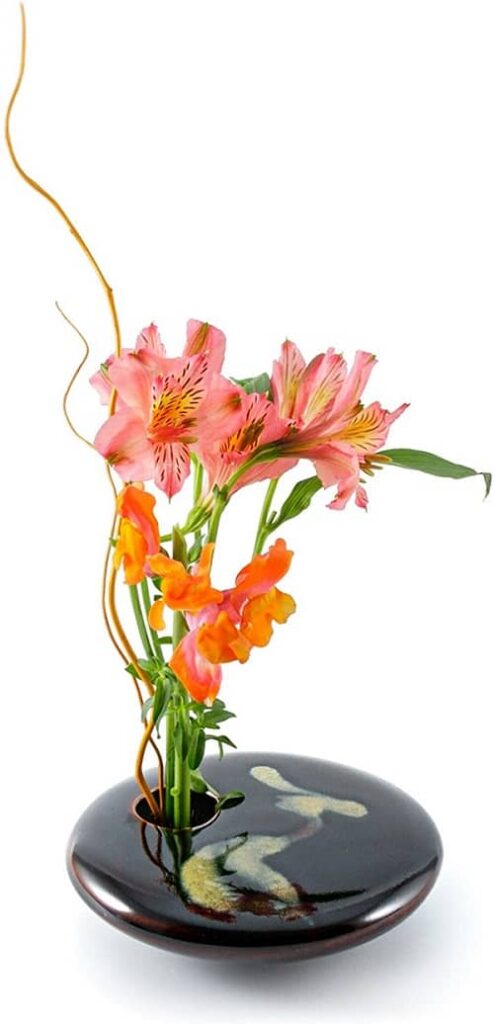 As we know that the color black symbolizes power and elegance. The vase might provide you with strong and powerful energy. Though these factors depend on how you think. These are the smaller version of the extremely popular ikebana vases.
The points of the pin frog creates tiny holes in the stems. These holes enable the flowers or plants to consume water for a longer time. As a result, the plants get to live longer than usual. The vase offers easy and pretty flower arrangements as well.
Features of Georgetown Ikebana flower Vase (Black Wave)
Small-sized round Ikebana vase.
Building material: Porcelain Clay.
Color: Black.
Measures 4 3/4″ in diameter.
Weight: 20.8 ounces.
Owns Pin Frog.
Pros and Cons of Georgetown Ikebana flower Vase (Black Wave)
Pros
Cons
Trouble-free floral arrangement vase.
Prolongs the life of plants.
Adds beauty and elegance to the environment.
None.
🌳Top 15 Best Ikebana Schools That You Should Know in 2021
✂️Best Ikebana Scissors | Japanese Flower Arranging Scissors
What is Ikebana? Japanese Flower Arrangement | 2021
4. Georgetown Pottery Square Ikebana Flower Vase, Blue Wave Review
The Georgetown Pottery Ikebana flower vases are developed to emphasize all the fragments of the flowers or plants. As a result, anyone is able to create a pretty and impressive floral arrangement with just a few flowerets.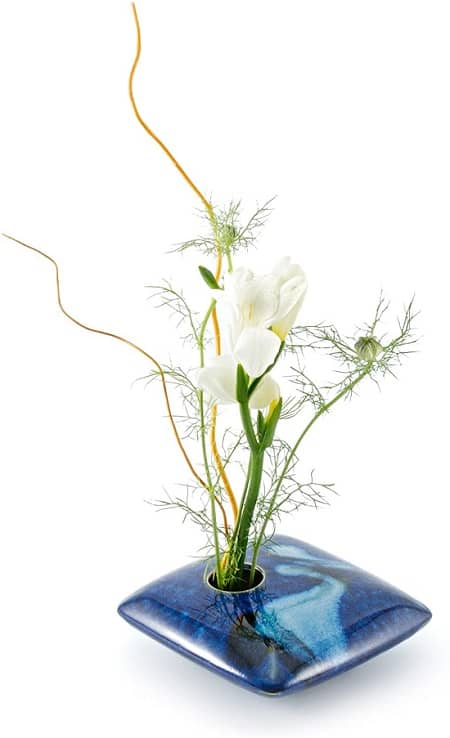 This Ikebana vase is square-shaped and small. With its small aspect, it allows you to place it anywhere in your household and makes the place twice more ravishing and pleasant. The blue color adds more satisfaction to it.
The square-shaped ikebana vases are fashionable and classic at once. Moreover, the pin frog is there to make it easier for you to arrange the flowers in the most delightful way and help them live much longer.
Features of Georgetown Ikebana Flower Vase (Blue Wave)
Making material: Top quality porcelain clay.
Color: Blue.
Shape: Square.
Handmade and decorated by hand.
Measures 4 3/4″ W x 4 3/4″ L.
Weight: 21.76 ounces.
Pros and Cons of Georgetown Ikebana Flower Vase (Blue Wave)
Pros
Cons
Lengthens the life of plants.
Small, doesn't take much space.
Pretty and classic, enhances the beauty of the room.
None.
5. Shigaraki Pottery Japan Flower Vase Kado Ikebana Black and Blue Glaze 1-2550 Review
Shigaraki pottery is one of the top ikebana vase potteries. Shigaraki Kado Ikebana pots are admirably and beautifully designed to make an effortless and delightful floral arrangement. This Ikebana flower pot is made in a cylindrical shape with a handle like a basket above it.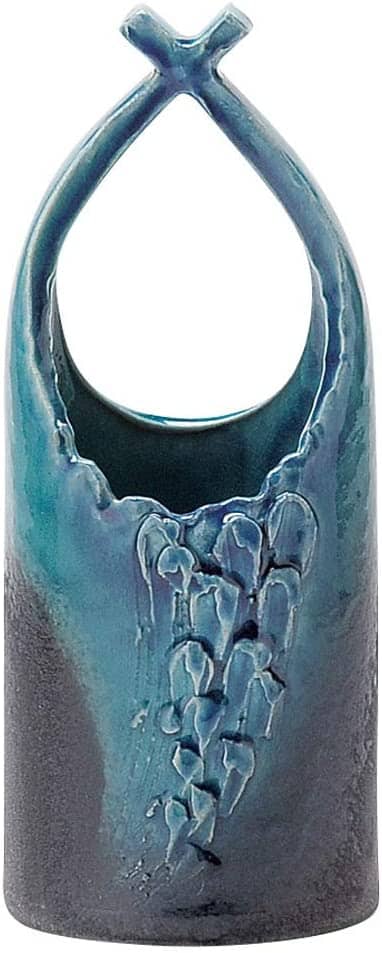 "Kado Ikebana" is a traditional Japanese art aligning with the Heian period. In this art, flowers and plants are exclusively ordered in a vase to gain admiration. Generally, those plants were presented in the tokonoma.
Tokonoma is an alcove in a conservative japanese room where arts and ikebana are habitually introduced. It's said that Ikebana was invented by a Buddhist monk offering flowers before a mortuary tablet.
The flowers and plants in Ikebanas speak for beauty and honor. They also stand for heaven, earth, people which are organised in a correct balance. 
Features of Shigaraki Pottery Japan Flower Vase
Construction Material: Ceramic
Color: Combination of Blue and Black
Shape: Cylindrical
Item Dimensions (LxWxH): 4.33 x 4.33 x 10.24 inches
Weight: 45.12 Ounces
Pros and Cons of Shigaraki Pottery Japan Flower Vase
Pros
Cons
Fanciable Ikebana pot for any place.
You can make a pleasing floral arrangement in it.
None. 
Hydroponics Ikebana Vase
6. GeLive Ceramic Ikebana Vase, Flower Arrangement, Decorative Bud Hydroponics Container, Reed Diffuser (Colorful 4 Pack) Review
The GeLive Ikebana vases come in a set of four vases. They are tiny in size and creative and lively by appearance. They would make a pleasant and cute set of gifts for family and friends. Their colorfulness surely spreads positive and hopeful energy all around the place.

The four Ikebana pots arrive in different colors (pink, blue, light green, and pastel orange) and different patterns. Their design is simple and minds pleasing. Perfect for displaying on a table or a bookshelf or on the window ledge.
These vases are made of ceramic and make a great floral arrangement. Round shaped with a narrow neck. Each vase is designed perfectly for a single stem of flowers, garden flowers, or bouquet leftovers. 
Features of GeLive Ceramic Ikebana Vase
Building Material: Ceramic
Shape: Round
Set of 4 Ikebana pots
Color: Pink, Blue, light Green and pastel Orange
Dimensions: 3.3″*3.3″*3.7″
Weight: 34.24 ounces
Installation type: Countertop
Pros and Cons of GeLive Ceramic Ikebana Vase
Pros
Cons
4 vases in 1 set.
Small and smooth.
Variety of color and designs Pleasant looking.
Might not give the plants a longer lifespan.
7. Shigaraki Japanese Ceramic Ware. Ikebana Flower vase. Asamurasaki hinerite. 1-2559 Review
The Shigaraki ware is pottery and stoneware made in the Shigaraki area, Japan. The kiln where the potteries are fired is one of the oldest kilns in Japan. These well-designed handmade Ikebana containers are made of ceramics.

The individual vases possess unique shapes and colors of their own due to being designed manually. For the same reason, you might notice slight differences between the sample image and the actual product.
It holds an outstanding design and color. Gives off a traditional vibe. Great for decorating bedroom, study room, hall room, office, outside of the door, and many other places. Help you make any floral arrangements easily.
Features of Shigaraki vase
Made from high quality Ceramics
Color: White and Gray
Shape: Cylindrical
No bamboo flower stand
Height: 28.5cm 
Depth: 13cm
Width: 13cm
Pros and Cons of Shigaraki vase
Pros
Cons
Imposing for any place indoors or outdoors.
Helps you to make charming ikebana easily.
Expensive.
---
Plants and flowers that are used in Ikebana
It has been noticed that flowers and plants that have indigenous asian tradition are highly cherished in the Ikebana design. Flowers that are generally used in ikebana designs are camellia, tree peony, and narcissus.
In western floral arrangements, leafy greens and stems bring a calming foil for the flowers and make them more lively. Therefore, anticipate bamboo grass and leaves, pine branches, willow, and other foliar elements in the floral arrangements.
Some of those flowers hold a remarkable essence for Japanese festivals. For instance, the Irises plant is used in the ikebana designs for the celebration of the Boys' Festival on May 5th. Also, during the Chrysanthemum Festival on September 9th, the chrysanthemum spontaneously prevails.
Styles of Ikebana
Since its invention to this day, ikebana has changed a lot of styles. In the early times, Ikebana had a very simple style. It required very few stems of flowers and evergreen branches to be made and is called kuge (供華).
Then in the late 15th century, the style of Ikebana started to change. During that time it was modified into a form of art with fixed rules. Let's take a look at some of the Ikebana styles.
The Rikka
It means standing flowers. This style was originated as a Buddhist expression of the beauty of landscapes in nature. The specialty of style was nine branches that represent the elements of nature. One of these styles is called suna-no-mono (Sand arrangement).
Nageirebana style
Also known as Nageire. "Nageirebana" means thrown-in-flowers. It was denoted by a tight bundle of stems that form a triangular three-branched unbalanced arrangement.
The Seika
Means "Pure Flowers." It's a plain style that is drafted to present the beauty and uniqueness of the plant itself. 
The Moribana style
This term means "Piled up flowers." in this style, the flowers are organized in a not-so-deep vase (suiban) or basket and stuck on a pointed needle holder (kenzan). It's also known as metal frogs.
The Jiyūka (Free Flowers) style
This style doesn't follow any specific pattern. It's a free creative design, where any material besides flowers can be used. 
Types of vases that are used for Ikebana
There's a wide variety of containers for floral arrangements. Ikebanas isn't only viewed beautifully in appearance, material, and design but by their vessels too. There are different types of ikebana containers for different styles.
The factor which is sought the most in Ikebana vessels is a shape that extends the lifespan of flowers. Therefore ikebana vases are wide open at the portal. So the oxygen can enter through the neck opening and the flowers receive it directly from the water.
Hence, the water stays sweet for a longer period of time compared to small necked vases. Which gives the plants or flowers a longer lifespan.
Different types of vases are made according to different beliefs. There are hanging vases which are made thinking if flowers are gifted by a valuable friend, those flowers shouldn't be looked down upon. 
Hanging moon and hooked vases are some of the hanging vases. There are vases which are specifically built for summer or winter seasons. Flat and low vases are mostly used in summer for water growth.
Bamboos are often used as ikebana vessels. They are simple, hold their own natural design and color. Unfortunately, solid bamboo is hard to get outside of japan. Instead, small bamboo baskets are used as they're available in all climates.
Out of so many different styles of ikebana potteries, the mid-century ikebana vases got really popular. Their styles were majestic and impressive. Till now, many Ikebana vases are made as representations of the mid-century vases.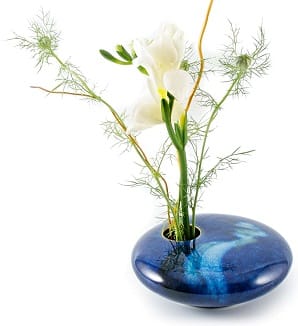 Frequently Asked Questions
Why do you need an ikebana vase?
An Ikebana vase is needed because they bring out the art of nature and the emotions of one. The Ikebana which is the japanese art of arranging flowers discovers a new life in the flowers, leaves, stems for artmaking.
Ikebana's purpose is to emphasize the innermost virtues of flowers and other existing materials instead of aimlessly keeping flowers in a vase. The Ikebana brings out our emotions through the beauty of flowers and plants.
How to use an Ikebana Vase?
There are different types of ikebana vases as well as ikebana styles. There are freestyle ikebana styles where you can arrange your flowers however you want. 
To use a flat ikebana vase, you'll need a kenzan or a metal frog or frog pin. With the help of this, you'll be able to pin down the plants or flowers in a fixed position. Kenzans hold the plants firmly and prevent them from falling down.  
There are floral wires to help you with plants with long branches. You insert the floral wires through the branches or stems and then place them in the pot the way you wish. The wires make them stay set.
You can mostly make your own type of flower arrangement by using the floral wires or kenzans in other different ways you desire.  
Conclusion
Ikebana means arranging the flowers and plants in a special way that gives them life. You basically pass your emotions to these plants and then they bring forth the happy and delightful energy to you as a return gift.
From the Ikebana vases mentioned above, I personally recommend the Georgetown Pottery Ikebana vases. Their colors, shapes, and design are really stunning and admirable. They give off a vintage vibe with their pleasing and valuable creation.
Another set of Ikebana vases that I fancy are the GeLive Ceramic vase set of 4. They would make an excellent decoration in a corner of the household with their tiny and colorful features.
Ikebana vases play a vital role in the beauty and value of Ikebana. A quality vessel possesses the ability to save your floral arrangement from premature death. They also increase the charm of your Ikebana and make them more lively.