What does come to your mind when you first hear about the term "Terracotta?" Well, just as interesting as it sounds, this itself is a fascinating term. Terracotta is a type of earthenware that is made from clay. They are generally varnished or rough.
Terracotta is a Latin word that means "Baked Earth." It's called baked earth because it's made from clay which is basically earth and it's fired after it is made. Terracotta is usually used for making sculptures and also for various practical uses such as flower pots, dishes, etc.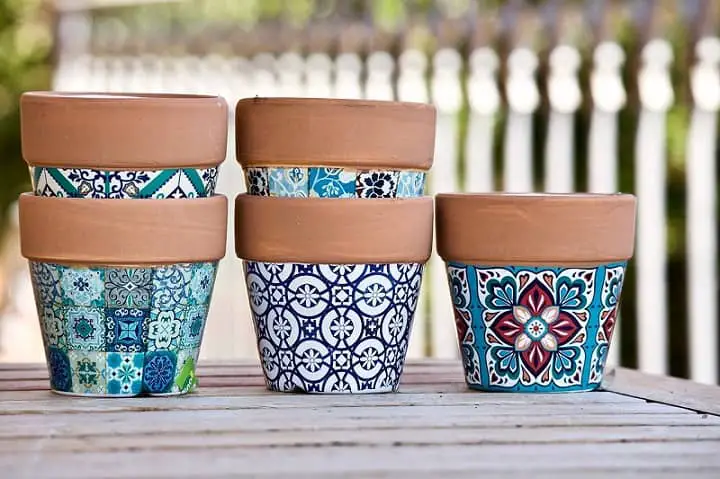 How to make terracotta pots?
To make Terracotta Pots, first, you have to collect an appropriate purified clay and form it to your desired shape of a pot. Then the pot should be dried and placed in a kiln and then fired.
The average firing temperature of the terracotta is 1000° C (1830° F). Even though in archaeological and historical terms it may be as low as 600 °C (1,112 °F).
The pots usually turn reddish after being fired due to the iron within. Though a variation in the colors can be seen. Some terracotta pots turn yellow or brown, some are pink, buff, or grey.
There are also painted terracottas. First, the terracottas are covered with a very thin layer of gesso and then it gets painted.
Terracotta has existed for a long period. People say that terracotta was first used in prehistoric art. Terracotta sculptures were made around 3000-1500 BC in Pakistan as female figurines. Terracotta potteries have been used in China since 10000 BCE.
Terracotta was used in greek pottery since 7000 BCE and also in Mesopotamian and Egyptian arts and sculptures. They're also used in Minoan art from Crete and Italian Etruscan art.
The presence of Terracotta is seen in Greek temple decorations and so many other places and in different times. 
Terracotta pots are hugely used in various ways. A good amount of people use them for gardening purposes. For example, they use these terracotta pots as flower pots, plant pots, etc. But in some households, they are used in the kitchen or in other ways. 
Terracotta pots are of different shapes and sizes. These clay-made pots can be big, small, long, short, and in any shape. This makes it so much easier for the user as they are getting to choose their favorite shaped pots. Here are some of the best Terracotta pots below for you to choose from for your garden. 
1. Cadamada Terracotta Pots
These terracotta clay pots are just perfect for your garden. Want to use them indoors or outdoors? Well, good news for you because you can use these tiny clay pots both indoors and outdoors!
Not only that but this can also be used for decoration purposes. You can decorate your bedroom, study room, kitchen, office balcony so pleasingly with these terracotta pots. 
It's also featured with water permeable and breathable. Most succulent, cactus and some other plants will prosper without any harm in these pots. These terracotta pots are splendid for planting cutting.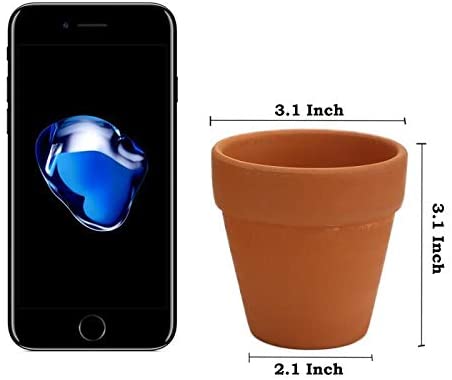 The base of the pot has a diameter of 1.3 inches, the diameter of the top part is 2 inches and finally, the height of the clay pot is  2 inches. It also has a weight of 2.05 pounds.
These terracotta clay pots are mainly designed for the succulent type of plants and other types of small plant variation. The bottom also has a little water drainage hole. This prevents excess water to accumulate in the soil. The drainage of surplus water prevents the roots from rotting.
As of December 2020, the Amazon rating of Cadamada Terracotta Pots is 4.6 out of 5 stars given by 35 customers from all around the world.
Features
It's a set of 16 clay pots
The size of each pot is 2×2 inch
The opening diameter is 2 inches
The Pot base diameter is 1.3 inches
Pot height is 2 inches
Drainage holes are designed in the bottom
This product weighs 2.05 pounds
For planting succulent and cactus
2. Cape Craftsmen Metal Wall Plant Holder
Are you someone that craves fanciness and beauty in their house? 
Someone who loves gardening and decorating their house at the same time?
If yes then brace yourself!
Because this metal plant holder is going to make your garden 10 times more charming!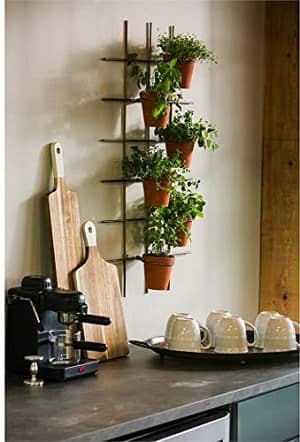 This plant holder will make your place look classy and gorgeous. You can create it and decorate it in your own way. Its keyholes make it so much easier for the pots to be hanging on to the holder. Getting this plant holder for your indoor garden is absolutely worth it!
The pots are made of clay while the stand is iron-made. It has 6 terracotta pots that measure about 4 inches. There are 4 holes on the stand for hanging purposes. You have to assemble the stand before hanging it.
The dimension of the whole stand is approximately 18.9 x 4.92 x 33.46 inches. The whole stand along with the clay pots weighs around 5.81 pounds.
Evergreen Enterprises, Inc. is the manufacturer and it's under the brand name Cape Craftsmen.
Just imagine your favorite pretty flower plants in this!
Features
This metal wall plant holder comes with six terracotta pots
Its stand is crafted from iron and the pots are made from clay
The terracotta pots measure round about 4 inches
There are 4 keyholes that make it easy to hang
This measures approximately 18.9 x 4.92 x 33.46 inches
Weights 5.81 pounds
3. T4U 4 Inch Terracotta Clay Pots
These red-colored tiny terracotta pots are so top in quality. They are fired in a high temperature and stable shiny texture finish. These cute little fellas are packaged very carefully so no need to worry about damage on its way to you.
These pots are so cute that there's no way anyone wouldn't love them. They are also very suitable for cultivating succulents and mini cactus cuttings. With their breathable surface and water drainage system on the bottom, the small plants have no problem surviving.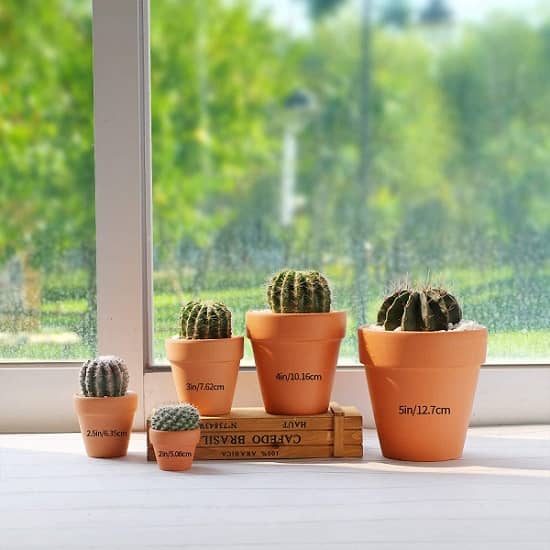 These highly durable clay pots are very tiny and carefully packaged. Each package has 6 pieces of pots. They have a height of 4 inches and a diameter of 6 inches. The weight is around 3.79 pounds and the package dimension is 11.81 x 8.19 x 6.26 inches.
The brand and manufacturer is the T4U store. 
This product was rated 4.6 out of 5 stars by 52 global customers of Amazon (Update from December 27, 2020)
Features
Six mini terracotta pots in one set.
These fine pots are made from clay and red-colored.
Weights 1720 grams.
The mini pots are 4 inches in height.
They're 4 inches in diameter.
There are drainage holes below the pots.
4. Family Clay Pots Hanging Baskets
What house is that where there are no plants? Plants bring the houses back to life, they make our souls feel so alive and refreshing. Is there anyone who doesn't love nature? That's why nature should be everywhere. 
Nature should be both on the ground and hanging from above. And these hanging clay pots are here to expand the charm of your garden greatly. You can use these hanging gardens indoors and outdoors.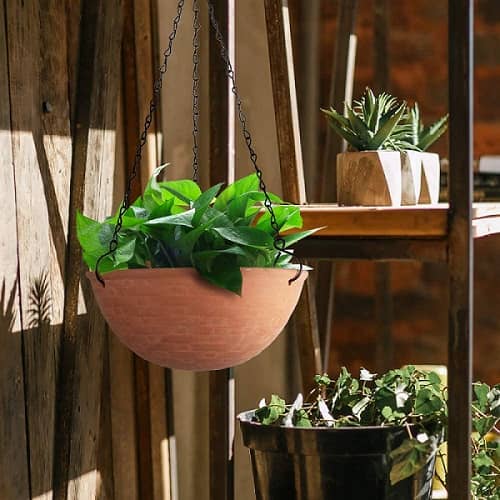 These hanging baskets can be used in wedding or birthday parties as well in addition to the decoration. They are ready to please your eyes and mind, are you ready to get them through?
It's distributed under the Family brand and they are also the manufacturer. The package dimension is 9 x 9 x 6.1 inches and the item has a weight of about 2.99 pounds. The package is very well done and has been tested shockproof by dropping it from 2 meters of height.
53 customers of Amazon from different part of the world has given it a rating of 4.2 out of 5 stars.
This info was updated on 27 December 2020.
Features
2 hanging baskets in one set.
Terracotta ceramic hanging pots.
Brown colored baskets.
Each pot height 3.4 inches.
Weights 2.99 pounds.
Each pot with a diameter of 7.3 inches.
No drain hole at the bottom.
5. LA JOLIE MUSE Ceramic Flower Plant Pots
The set of these ceramic flower pots consists of two pots. One of them is a clay pot that is an ethnic-inspired indoor pot with a circular pattern and flimsy painting. The other one is a simple jar-style planter. The plane planter is smaller in size compared to the other pot.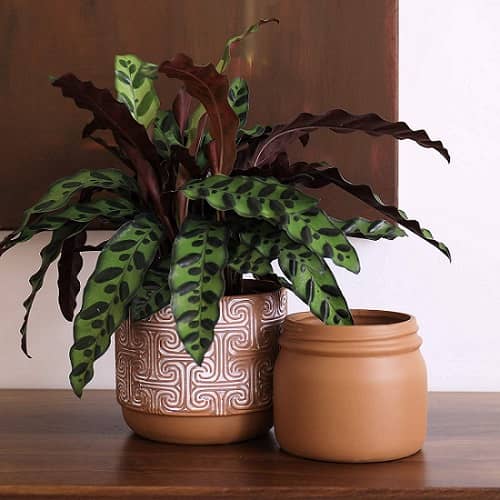 Even though these pots are different by looks but they both carry on the same terracotta aesthetic. The inner and outer exterior has an unglazed matte touch which makes the environment refreshing and healthy.
It's a product recommended by Amazon itself based on its high rating and well pricing. The Amazon rating is 4.7 out of 5 stars given by 782 reviewers from all over the world as of the end of December 2020.
Features
These pots carry a rustic terracotta look
Dimensions: Large 6.3″ D x 5.3″ H, Small 4.5″ x 4.5″ H.
Material: Terracotta.
Drainage hole included.
This also comes with rubber plugs.
Weights 3.19 pounds.
Two planters in a set.
The jar-like planter comes with a smooth surface, so you can decorate it in your own way.
6. Big Businessman Terracotta Clay Pots
Pretty plants need pretty pots because if the pot is hurtful to the eyes then how will the eyes get the chance to enjoy the charming view of the plants?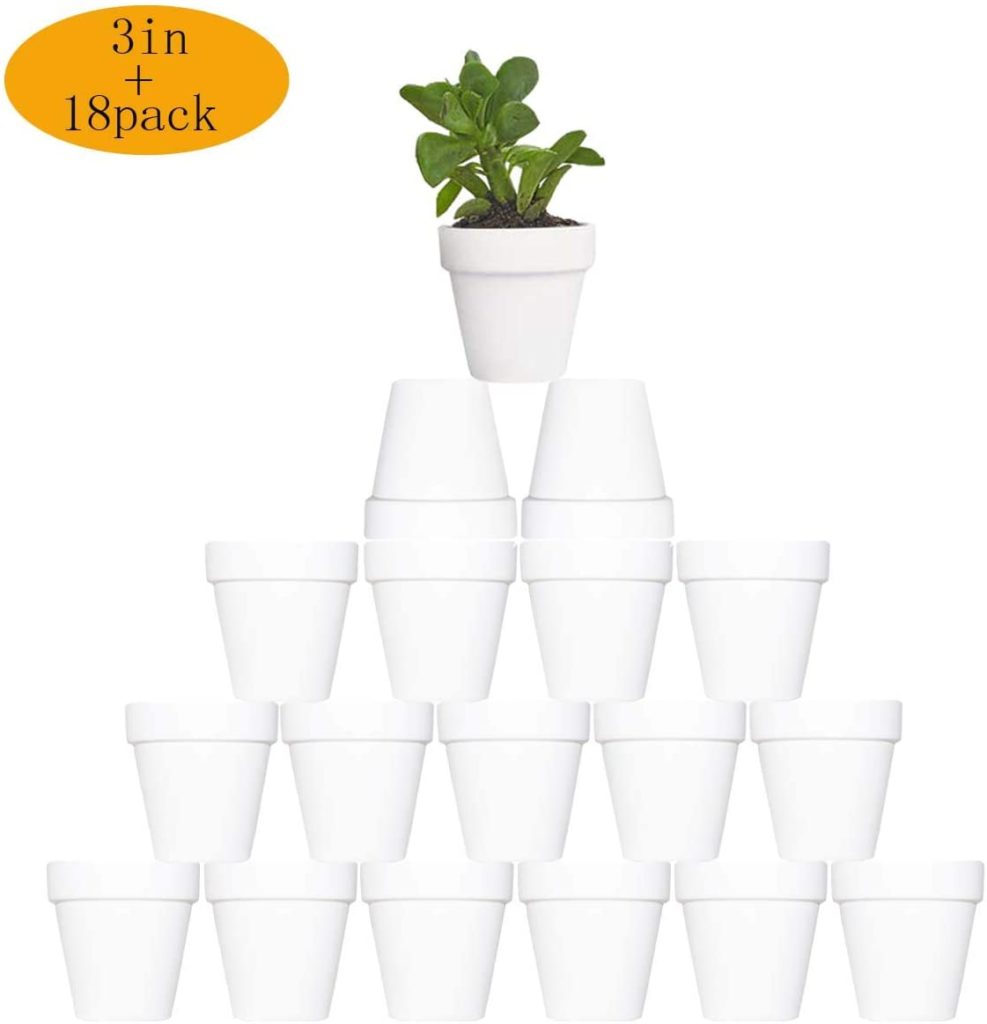 These terracotta clay pots are cute and pretty. They will add more to the charm of the plants.
And this doesn't come with 5 or 6 pots, in fact, this set has 20 full-size terracotta clay pots.
The surface of the pots is so smooth and plain that you can paint on them and decorate them in your own way.
Features
High-quality terracotta pots.
20 terracotta pots in a set.
The texture of these pots is really burnished.
Highly fired.
Drainage hole to increase moisture to prevent overwatering.
Made from top-quality clay and was baked at 980°C high temperature.
Dimensions: 3 x 3 x 2.5 inches (L x W x H)
Weights 5.3 pounds.
These pots are easy to paint for labeling and personalizing.
7. ChasBete Wall Plant Hanger Hook for 4'' to 9'' Terracotta Pot
While decorating your garden have you ever faced any problem about where to put this flower pot?
Or running out of space and ending up with a messy garden? If yes then these plant hangers are here to solve your problem.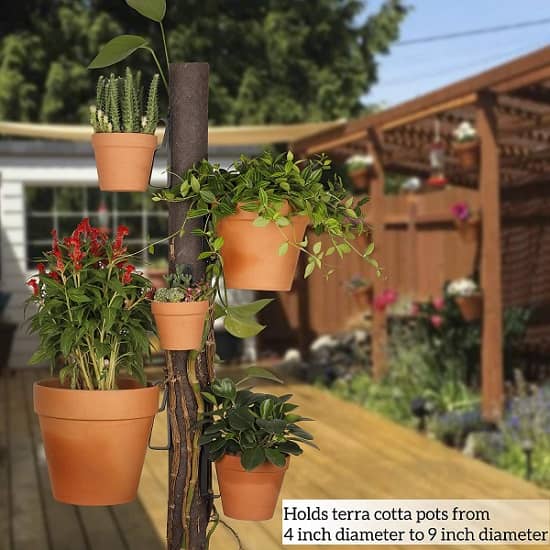 With the help of these plant hangers, no more messy gardens or doubts. Hang the extra flower pots on the balcony or in the wall with these plant hangers and bring back the joy in your garden.
Features
Made of long-lasting stainless steel.
Black colored hooks.
This hanging plant bracket set comes with 4 plant hangers.
These plant hangers can load up to 50lbs.
These potholders are fit for terracotta pots only.
The package includes 4 flower pot hangers, 8 screws, 8 rubber stoppers, 1 instruction paper.
Dimensions: 6.4 x 6.1 x 1.2 inches
Weights 1.15 pounds.
8. Carlton Lane Terracotta Pot Look
Are you in love with gardening? Are you in love with the terracotta clay flower pots? If you are then be ready to fall deeper because this terracotta pot is here to attack your heart!


Its look is really classic and it's made from high-quality clay. The design is also very soothing, it gives out a really peaceful vibe.
It is also a very outstanding gift for plant lovers. Feel free to give your plant lover friend this great present. 
Features
Clay-made earthenware in terracotta looks.
Mainly for plants like succulents and cactuses.
Drainage hole and plug are included.
The pot is 7 inches tall with a 6.5-inch round rim, along with a 5.8- inch diameter.
These pots are sculpted out of the finest clay and follow a trendy latest design.
They're also in stock in the classic terracotta color as well as the boho style terracotta with white paint.
9. CFKJ 4″ Planter Nursery Terracotta Pots
These finest terracotta clay pots are made in high quality and come in a set of 26 terracotta clay pots.  The size of the pots is just perfect for use in the bedroom, kitchen, balcony, or office.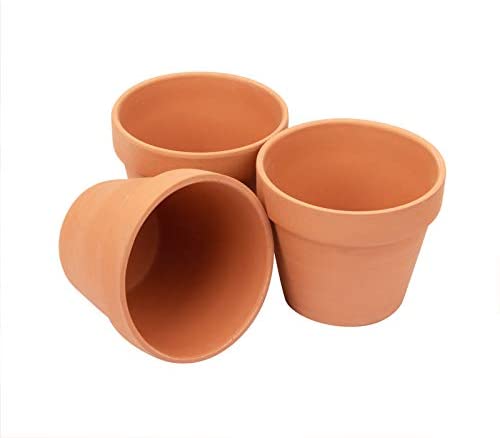 The pots are baked at high temperatures and have a smooth texture. 
These also have drainage holes in every pot so that plants wouldn't get overwatered.
Features
Comes in 26 pieces of pots in the package.
Its height is 3.22″, Diameter 4″, Base 2.56 and Thickness 0.185″.
Weights 11.13 pounds.
The pots include drainage holes to keep the soil evacuated and ventilated.
Made of first-class clay and baked at 975°C high temperature.
Its polished appearance soothes the eyes.
10. Winlyn Terracotta clay flower pots
Winlyn terracotta clay flower pots are very well suited for growing small plants such as succulent, mini cactus, etc.
They come in a very fine shape with a polished surface.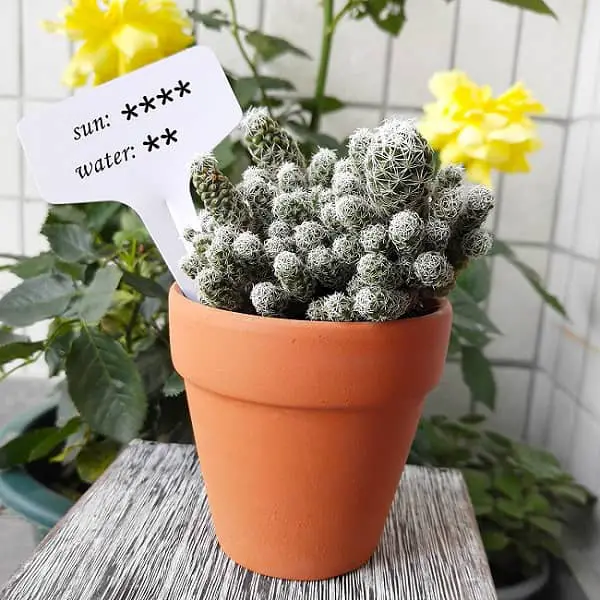 You can also express your inner creative soul by painting on these pots and decorating the pots with various colors.
These are perfect pots for everyone and every place. Their terracotta looks increase the beauty of the environment and lighten up the mood!
Features
These pots are made of clay, ceramic.
Comes in a set of 6 unglazed clay terracotta Azalea Cactus Flower Pots
The planters measure approximately 3.5″ tall with a top outside diameter of 6″.
These pots are made and colored in a rustic terracotta look.
Package weights 6.89 pounds.
FAQs
What plants grow best in terracotta pots?
Generally, the plants that prefer drier soil grow well in terracotta pots. Terracotta pots are excellent for gardening indoors. They also increase the beauty of any household.
Among the plants that grow best in terracotta pots, Succulents, Cactus, and such plants are the best. The porous clay pots absorb the water and let additional moisture be disclosed from the soil quickly. That's why plants that prefer drier soil do well in terracotta pots.
Terracotta pots empower air and watercourse past them. As a result, the plants get protected from root rot or any soil disease. Thus they help keep the plants alive.
Terracotta pots are noteworthy in cold weather. The walls of the pots release the water out of the soil and the soil becomes dry quicker. But, sometimes they might crack so you have to be careful about that.
Therefore, dry-soil plants such as cactus, Yukka, succulents, Blooming chives, etc plants grow best in terracotta pots. 
Are terracotta pots good?
There are both pros and cons of terracotta pots. As we all know, everything has both advantages and disadvantages. Just like that, terracotta pots have good sides and some bad sides. Though the bad sides are very few.
Terracotta pots are magnificent for the plants indeed. Especially if you are willing to make a garden inside your house. Who doesn't love plants actually?
Some houseplants even perform better in terracotta pots. Since these are porous and they breathe, if you over-water the plants slightly the roots of the plant don't drown. Sadly this doesn't happen in other containers.
You can use terracotta pots both inside and outside your house. They're also not so expensive most times. And one more fun fact is, you can tell by the color of the pots if you need to water the plants or not. Isn't it surprising?
But, even though they perform better in cold weather, keeping them outside in the cold for too long can cause them to crack. They should be held and moved very gently. Plus, you have to water the normal pants frequently, or else the plants might die.
So undoubtedly terracotta pots are good for your plants. There's no second thought about it. But keep the negative sides in your mind too, okay?
Are terracotta pots better than plastic?
Plastic pots and clay pots are made of totally different materials so they have different characteristics. On the other hand, it also depends on what type of plants you want to grow. For some plants, it doesn't matter what's the container made of.
Usually, plants that go for drizzly soil are appropriate for plastic pots. On the other hand, plants that prefer drier soil are fitted for clay pots. And you don't have to worry about plants that can grow well in both plastic and clay pots.
Plastic Pots – Pros
Plastic pots keep the soil humid because of non-porous walls. It's advantageous for plants that need more water.
They are boundless of colors and they're very lightweight. Plastic is potent and tensile therefore it does not need to be replaced often.
They're also inexpensive, easy to cleanse, and processable.
Plastic Pots – Cons
Plastic can be fragile and crack over time, mostly if it's in cold temperature for a long time. They can also be fragile if they get a specific amount of UV exposure. Also, in plastic pots, there's a high chance of the plants getting over-watered. They also create plastic waste. 
Clay Pots
There are two kinds of clay pots, one is terracotta which is an unglazed clay pot another one is glazed ceramic clay pots. These two types have different pros and cons. 
Terracotta
Terracotta is long-lasting and natural. As they're much heavier than plastic pots that means they're more solid and steady. On the contrary, they break much more easily than plastic pots. Also, they're moderately costlier than plastic pots. Moreover, it's troublesome to add extra drainage in here. 
Glazed Ceramic Pots
These types of clay pots are in between the plastic pots and terracotta pots. This means they obtain the characteristics of both. They are found in various colors and designs and moisture the soil perfectly. 
They are breakable and weigh the same as terracotta pots. In addition, they cost much more than terracotta pots. 
From the information stated above, we see that all these pots have advantages and disadvantages. Among these three types of pots, the most preferable is glazed ceramic pots.
Because it's a mixture and balance of both terracotta and plastic pots. But most importantly, it depends on the plant you are willing to grow. 
Why are terracotta pots bad?
Terracotta pots are not bad, they are in fact very useful to grow plants. Terracotta pots are well known to the world as gardening containers. And you can grow your favorite small or big plants in them.
There are surely some troubles using these pots as we discussed above. But it's not harmful to the plants in any way. Furthermore, as they are made from natural elements and that element is clay, it's undoubtedly good for your beloved plants. 
But, sometimes terracotta pots can be bad for your plant. That is if you try to grow a plant in your terracotta pot but that plant requires lots of watering. Because they keep the soil dry so it might not be good for the plants. 
Can terracotta pots stay outside in the winter?
Terracotta pots can't function well in cold climates. If a terracotta pot is kept outside in cold weather there are possibilities of showing up cracks in the pot. Then it'll lead to breakage. 
Terracotta pots are absorptive. They conserve moisture. They are likely to crack because the moisture within them will slowly freeze and enlarge multiple times over the course of winter. 
That is why terracotta pots cannot stay outside in winter. 
Should terracotta pots be sealed?
It is a totally non-compulsory matter whether you want to seal your terracotta pots or not. Sealing terracotta pots is not mandatory. But it may be sealed in some circumstances. 
For example, if you are using a plant that requires a great amount of watering or if your pots are not responding well like if it's not moisturizing and drying properly then you might consider sealing your terracotta pots. 
While sealing the pots, you can seal them from either outside or inside. But keep in mind that there are pros and cons to each possibility. 
Some want to seal their terracotta pots before painting. It completely depends on the user's will. If you want to paint the pots for outdoor use then you may use a clay pot sealer before painting. That will help the paint last longer. 
Should you soak terracotta pots?
When using terracotta pots, you should always soak them. It's an essential step before you put your plant in there. Because terracotta pots are made from clay. 
If you do not soak them first then later the pot will absorb the water from your plant instead of releasing them. So, soak the pots before starting to use them and save your plants from injustice!
How do you soak the terracotta pots? Well, it's easy! First, get some water in your sink or bathtub. Then put the pots into the water. Soak them overnight or at least 30 minutes. There you go. Your terracotta pots are ready to be used.
How long do terracotta pots last?
Terracotta pots last a long time if you preserve them properly. Generally, if it doesn't get broken or damaged then the pots last a long time. 
Some gardeners replace their terracotta pots every year not knowing that they can preserve them. First, you should keep the soil away in a plastic container and clean the pots with a brush. Then store them upside down so that they don't absorb any elements.
By doing this, you can use a terracotta pot for three years. So cool, isn't it? From now on, no worries, and only enjoy gardening with the pleasing terracotta pots.
Conclusion
Hopefully, this article helped you get various information about terracotta and terracotta pots and also helped you know different terracotta products.
To conclude, despite being a little overpriced and sensitive, terracotta pots serve a great part in our lives by increasing beauty.
It's a part of art and history. It's connected to so many country's cultures and traditions. That's why getting them for your little indoor garden is totally worth it!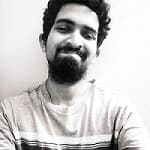 Hi, I am Rahat Rubayet. I am an entrepreneur and A gardener by Hobby. I created This website to help people like you, who want to make the world greener and want to leave it as a better place for our next generation.