Bonsai is a Japanese art of making a small version of trees. It is called a living creature because of its calm and steady nature. Bonsai trees represent a small part of nature confined in a small space and it is a copy of a full-grown tree.
Here are 15 unique bonsai tree ideas-
1) Japanese maple Bonsai tree
Maple trees are nature's one charismatic creation and having a Japanese maple bonsai is like having a mini nature in your own home. Maple bonsais are densely covered with stunning colorful leaves that amplify the beauty of the place.
This bonsai needs special caring and it is best if it can be grown outside of the house as it needs summer lighting.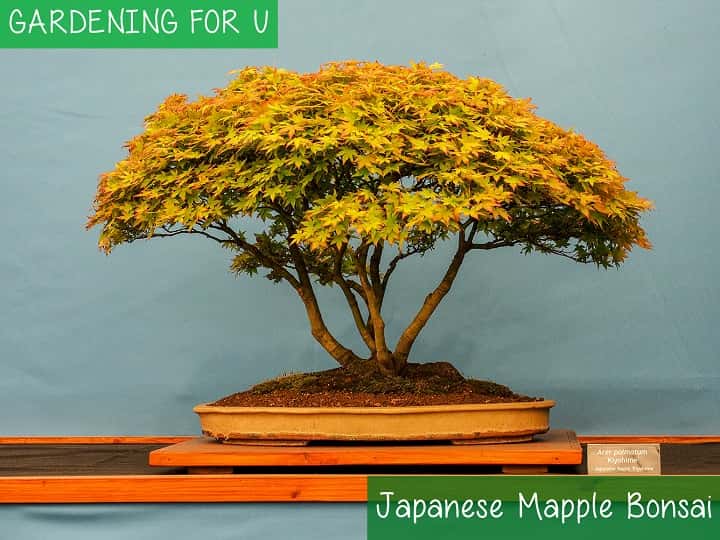 2) Juniper Bonsai tree
Juniper Bonsais are popular among Japanese people because of their unified nature leaves and this bonsai can be shaped into any unique form. The most popular juniper bonsais are those which have scale-like leaves and these bonsais have many forms of a colour range which varies from bottle green to light green.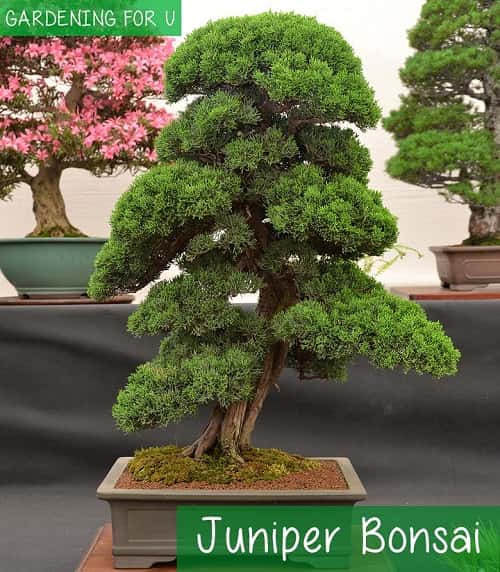 Another most popular species of juniper bonsai is needle-like foliage and because of the sharpness of the leaves, these bonsais are very attractive.
3) Maple Bonsai tree
Maple bonsai is famous for its artistic hand-shaped leaves and unique color which change every season. There are many beautiful maple cultivars that have a vast color range. Some of these are red color cultivars which include Schlesingeri, Red Dragon and some other varieties of maple trees are Crimson Queen, Tamukeyama, etc.
4) Ficus Bonsai tree
Ficus bonsai is an evergreen tree that belongs to the species of fig genus and the most popular ficus bonsais are Ficus Ginseng, Ficus Benjamina which is also known as weeping fig.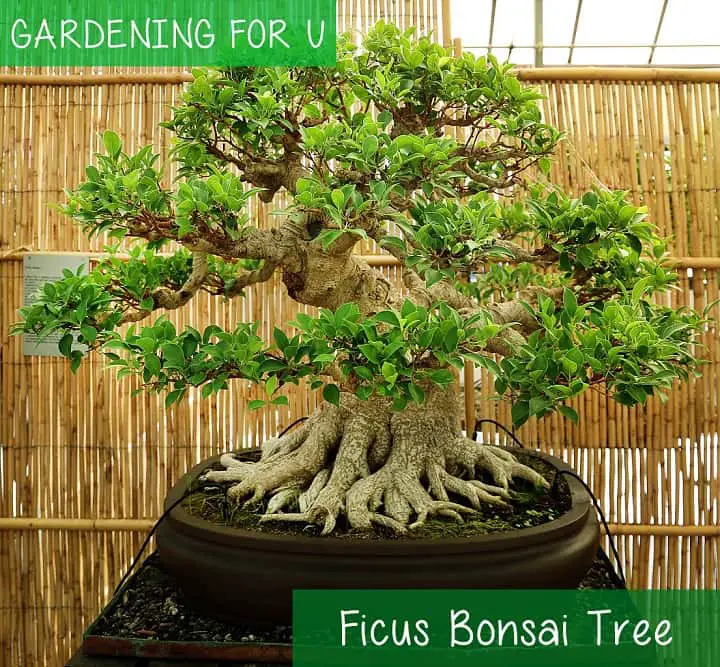 It is a beginner-friendly bonsai because it is an indoor bonsai and can be taken care of in sunlight. Another special thing about the ficus tree is that it can produce roots in Arial shape which is very creative looking in bonsai.
5) Penzai Tree
The idea of Penjai trees actually came from ancient Chinese. The most interesting fact about penzing is it is a more refined version of bonsai where bonsai is made with just a single tree; penzai is made with different kinds of roots, trees which actually are a miniature form of landscape.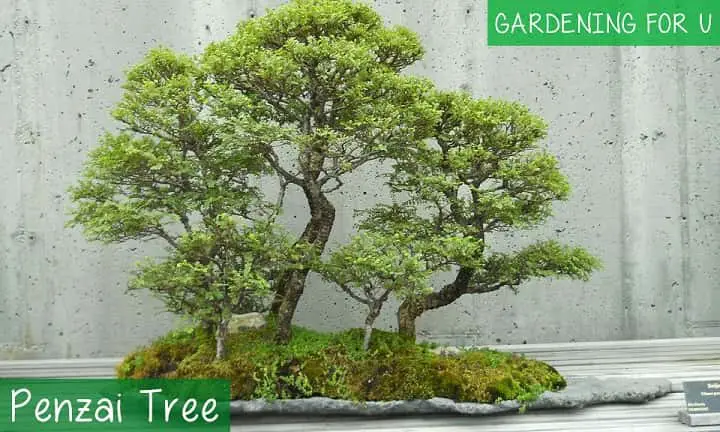 There are three different kinds of Penzai trees; Shumu penjing focuses on one or different kind of trees puts inside a container or vase, Shanshui penjing is a miniature landscape penjing with different elements of nature and Shuihan is an innovative style of penjing which involves both water and tree.
6) Fukien Tea Bonsai
Fukien Tea is a popular drink in China and it is a kind of penjing but this tree is also grown in Japan, Indonesia, and Taiwan. It is a small tree with white dots on the upper leaves and bottle green on the lower side and small white flowers bloom in all seasons on this tree.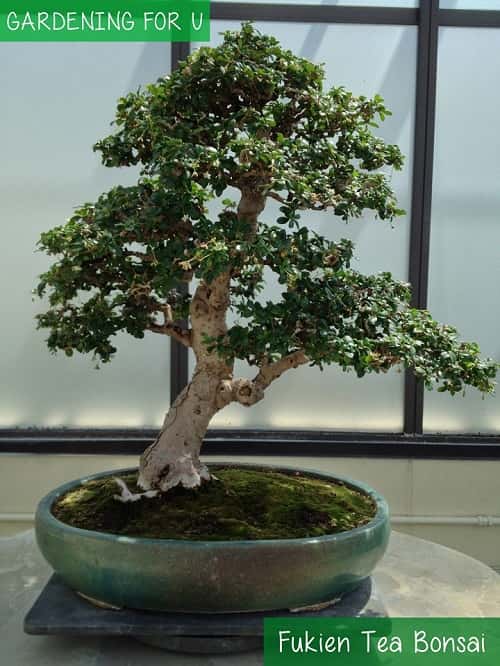 The best part of the Fukien tree is that it is an indoor bonsai and you can keep it in your living room which will make the environment of your living room more natural and lively.
7) Chinese Elm Bonsai tree
The Chinese elm bonsai is a beautiful bonsai tree because of its barks and leaves. The special thing about this bonsai is it has naturally small leaves and because of this you can give unique shapes to this bonsai. If you are a beginner then this can be your first bonsai as this bonsai can be easily taken care of and also you will love this living creature because of its lively outlook.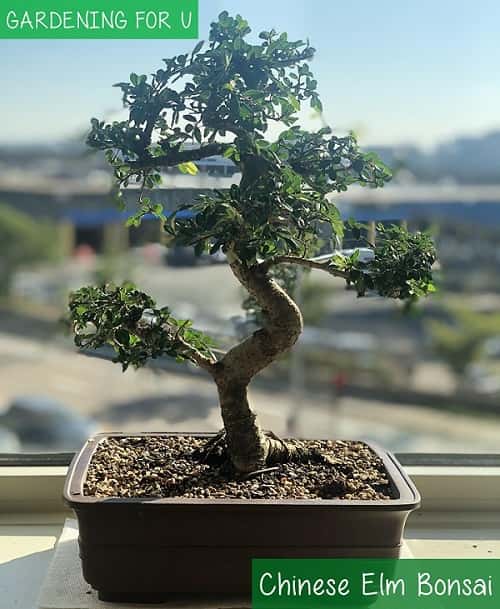 8) Bonsai Trees For Beginners tree
If you want to grow your first bonsai then you are probably wondering which trees will be the best to make the first move. There is a thing to remember that you can make your first bonsai with the tree which you love the most. There are many beginner-friendly bonsai trees like Azalea which is well-known for its vibrant colors, Jade which is popular for its puffy leaves.
9) American Fringe Bonsai tree
In 1989 The Nihonkai Nursery in Japan sent some shrubs to The U.S. National Arboretum where Fringe was comparatively a new species. The Latin name is "Loropetalum". In 2000 it started becoming popular for landscaping. A Fringe bonsai becomes mature with a beautiful maroon color. It changes its color depending on the weather.
It turns into burgundy around spring and becomes green due to the warmth of summer.  It is a pest-free bonsai and especially very easy to grow. It must be kept dust-free for its proper 'breathing' and 'cell development'. Fringe flowers richly in spring. So the finest time to cultivate is early spring.
10) Boxwood Bonsai tree
Boxwood is also called the Pom-pom tree because of its mimical feature of the pom-pom. Because of its easily adaptable feature, green leaves, and growth, it is popular among Bonsai makers. This tree can be shaped into any kind of favorable design.
The special characteristics of the Boxwood tree are that it has twisted trunks and Arial shape and this feature gives it a special kind of aesthetic look. The two most popular Boxwood trees are Buxus sempervirens which is well known for its round feature and Chinese boxwood is famous for its hard and frost feature.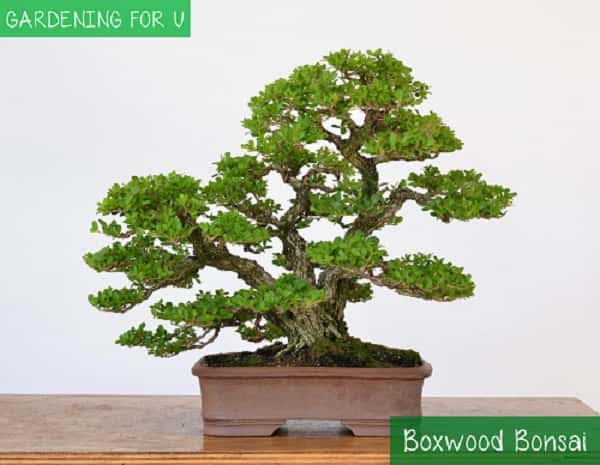 11) Japanese Umbrella Pine tree
Japanese Umbrella Pine is an outdoor bonsai. It has pine-like features with needle looking leaves scattered all around to form an umbrella-like shape. Even though they look like pine, they are not pines. They follow a pyramidal shape with their shiny green, long leaves. Heavy pruning is unnecessary for them.
Weekly watering and keeping them out of the heavy sun is recommended. They usually grow slowly. They are mostly trouble-free and need minor efforts to grow.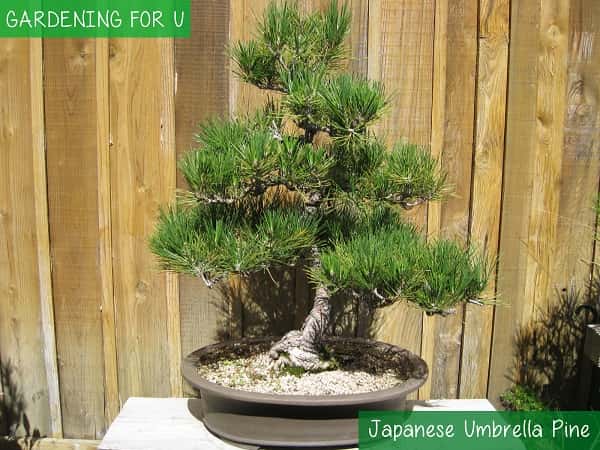 12) Wisteria Vine Bonsai tree
Wisteria vine bonsai is favorable for people who like to cut a delicate miniature version of a wisteria tree with drooping branches of purple flowers. Unlike other bonsai, they are not known for their trunk structures. They are visually vibrant because even though the branches are smaller than actual trees', the size of the racemes remains the same.
These bonsais might take three to five years to bloom. These bonsais need a lot of sunshine to bloom flowers. They also need a lot of watering and repotting at times.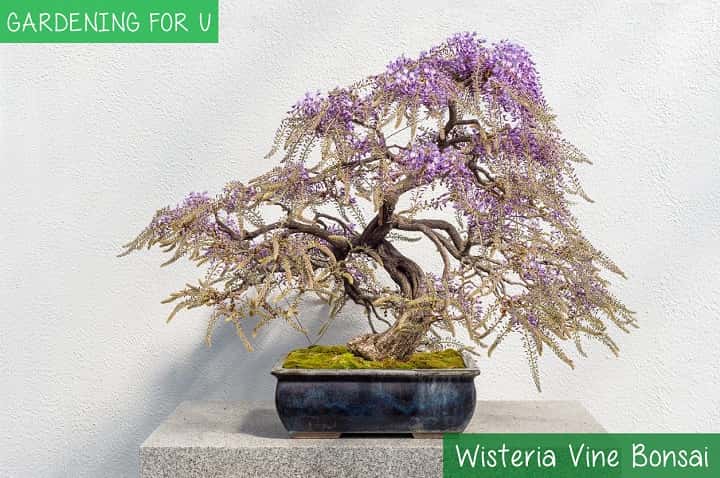 13) Dwarf Pomegranate Bonsai tree
A colorful looking and famous bonsai dwarf pomegranate are originated from Mediterranean and Asian countries. They lose their foliage in the fall every year. They require warm weather to survive.
They have trumpet-shaped flowers which are vibrant red and golf ball size sweet fruits. The fruits are too small to leave any substantial taste in the mouth. So they are mostly admired for the vision rather than their edibility.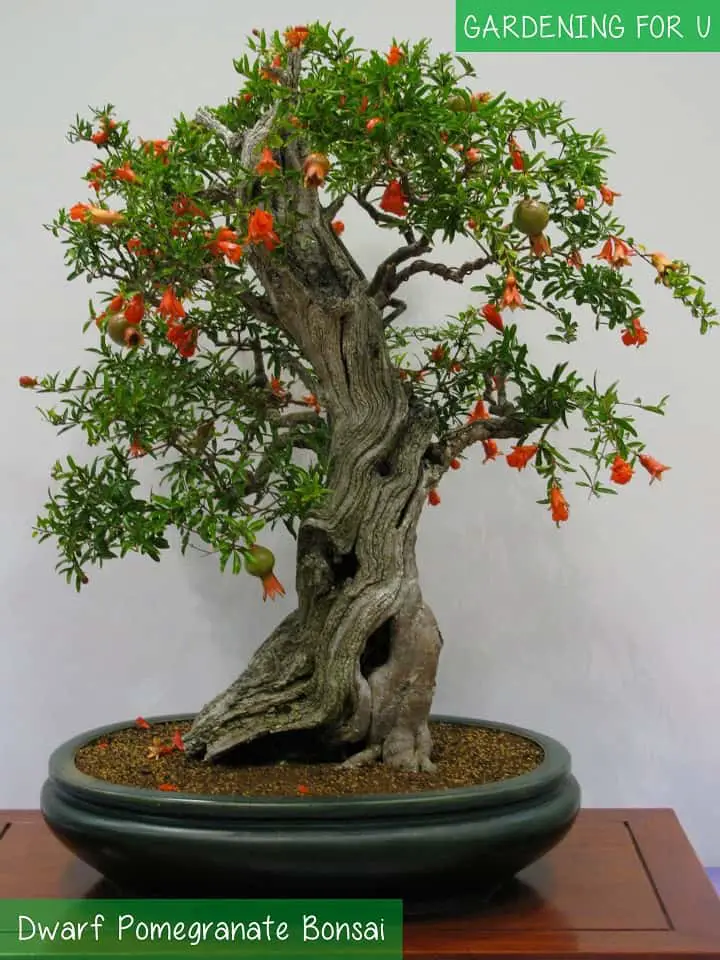 The Nana variety has smaller branches, which made them the best option for bonsai. They also have smaller fruits. The "Nejikan" variety has a twisted trunk. Some of these bonsai have trunks with thorns.
15) Olive Bonsai tree
Olives are naturally found in Mediterranean countries. But these lovely sun-kissed green beauties inspired people to bring them and keep them in foreign countries as bonsai. From three kinds of Bonsai trees, Olea oleaster is the best option for creating a beautiful bonsai. They are wild and mostly collected from the coastal side of the country.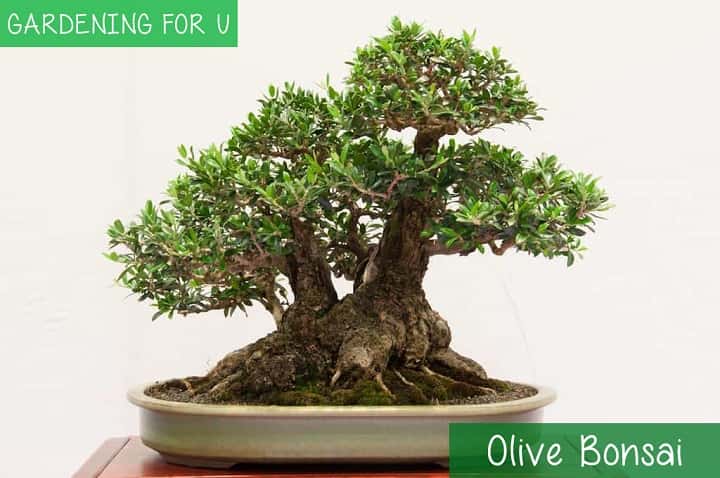 They have tiny leaves, natural deadwood, and have short internodes that make them best for cultivation. The other two varieties of olives, e.g. Olea Sylvestris, and Olea europaea, tend to have foliage and fungal issues, depending on how much sun they are getting. While cultivating olive, frost hardiness is the biggest issue.
Are you interested in Ikebana?
Check this article on Ikebana to know more.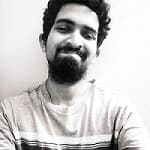 Hi, I am Rahat Rubayet. I am an entrepreneur and A gardener by Hobby. I created This website to help people like you, who want to make the world greener and want to leave it as a better place for our next generation.