Japan is one of the most beautiful and marvelous countries in the world. From sophisticated culture to whacky entertainment and astonishing technologies, Japan takes the crown of many things on the list.
Japanese people can be described with many adjectives and most of them good. Gentle, polite, kind, hospitable, and respectful are just some of them. Japan gave us technologies that are used in our lives like cars, motorbikes, smartphones, cameras, game consoles, etc.
They have shown the world many amazing things like a capsule hotel, smart toilets, clear Coca-cola, white Kit Kat, sushi, simple systems for old, baby, and handicapped people, and many other things. They are all great but today we want to talk about something else. Today we will look at some of the Japanese fruits that came from the land of the first sunrise.
9 Best Native Japanese Fruits
Amaou Strawberry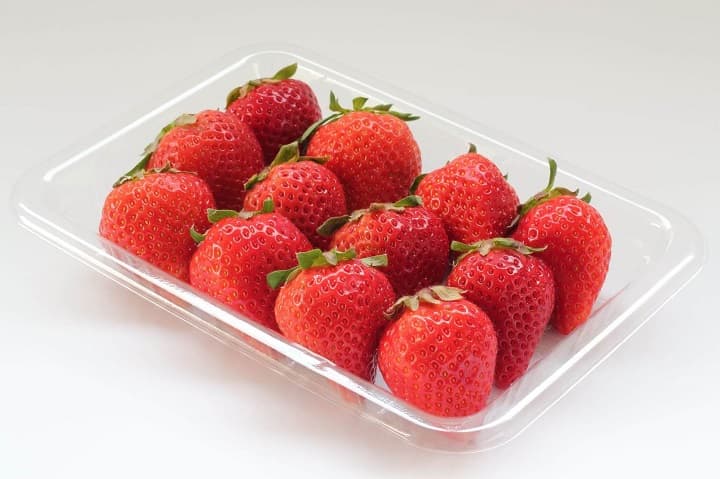 Amaou is a special type of strawberry which is grown in the Fukuoka prefecture of Japan. It is available during winter through spring in Japan. They are a large variety of strawberries which are averagely 6-8 cm in diameter. It has a bright red color, pointy seeds, and tastes very sweet with a mildly acidic flavor.
The name amaou comes from amai (sweet), marui (round), okii (big), and umai (tasty). The Amaou strawberry started to grow in 2002 and it took almost 6 years to perfect this fruit. And now it's the king of strawberries.
It can be used for various purposes like decorating cakes, ice creams, salad, fruit bowls, used as a garnish in drinks, etc. it can also be enjoyed with vanilla, caramel, chocolate, etc. It is even used in a limited-edition Kit Kat bar. The Amaou strawberry is often gifted at celebrations like weddings, anniversaries, and birthdays. And it is in no way a cheap gift. A single strawberry can cost up to 1200 Yen (10$). 
Momo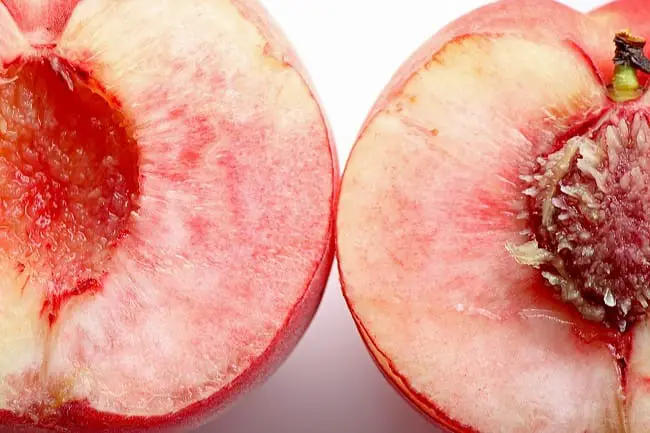 Momo or Japanese peach is a larger variety of peach that is produced in Yamanashi, Fubushika, and Nagano. Peach is usually available from July to September. The word momo could have come from the phrase 'Mami' which means true fruit or 'Moemi' (burning fruit) for its flaming color or the pronunciation for 'One hundred' where one is pronounced as momo.
In its early stages, peach was not only used as fruits but also used as religious ritual objects. It has been found along with some religious rituals like ikuji (amulets consisting of spear-head-shaped slivers of wood).
Then it had also been used for medicinal or ornamental purposes from the Heian period to the Kamakura period. Momo has also appeared in folk stories. One particularly stands out 'Momotaro' (Peach Boy). The story goes as a young boy is born from a big peach to an old couple. Then he goes to fight an oni.
Peach is mostly eaten raw without the seed. It is also used topping for cakes and jelly besides garnished with ice-cream or yogurt. It is also used in dumplings, ice-cream shavings, jelly, or anmitsu (a dessert made with agar jelly and different fruits or green tea, ice creams, etc).
Yuzu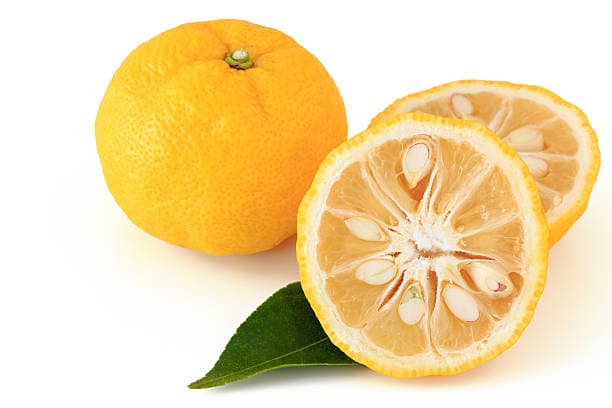 Yuzu is a type of citrus fruit that looks like mandarin orange but averagely bigger, yellow or green, and has uneven skin. It is usually available in winter. It is very rare and is only produced 27000 tons a year, mostly produced at Kochi prefecture.
Yuzu tastes a lot like lemon and lime. So they are not eaten raw. Though it produces a little juice, it is used to make a special type of sauce named yuzu ponzu and also a yuzu vinegar. Yuzu is mixed with honey to make a syrup called yuzu hachimitsu which is used to make yuzu tea. Also, yuzu kosho is a spicy Japanese sauce made from yuzu zest and peppers.
Ume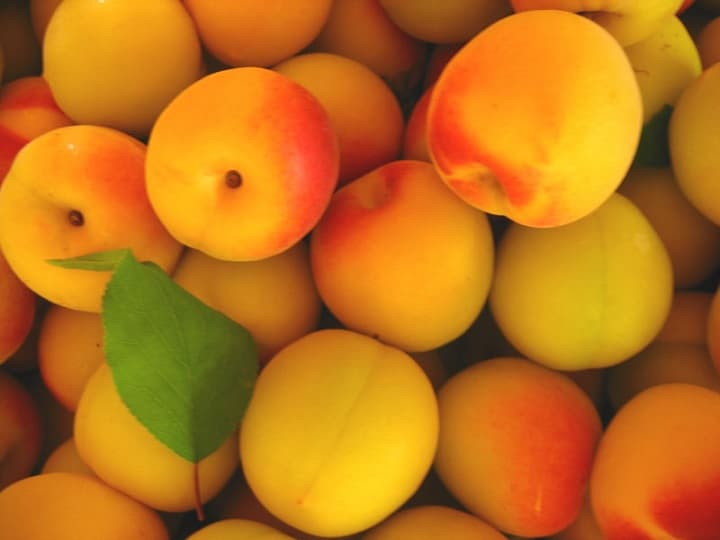 The word ume translates into plum. But it is more like an apricot. An ume tree, when in its flowering state, has beautiful pink flowers all over the tree. This makes ume a tree for 'Sakura'. Although flowering cherry trees don't produce edible cherries, flowering plum trees produce edible plum. So this tree will give beauty and food.
Ume is usually not eaten raw. It is pickled and made into umeboshi. Umeboshi can be eaten with bento (lunch box) or onigiri or just plain rice. Another dish with umeboshi is ume chazuke, a dish of rice poured in green tea topped with umeboshi.
Mikan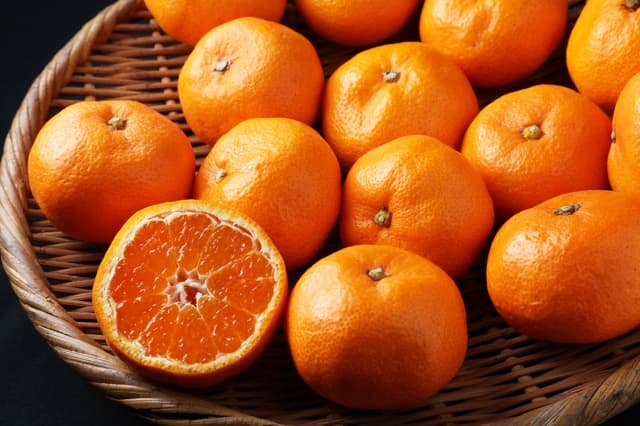 Another citrus-based fruit popular in Japan is the mikan. Also known as unshiu mikan, this fruit was originated in China and is largely produced in Wakayama Prefecture and Ehime Prefecture in Japan.
Mikan is seedless and easy to peel. It is available in the winter. It opens up like a flower and is eaten raw without removing the inner peel. A cozy way to enjoy is sitting under a kotatsu (a heating table). 
Kaki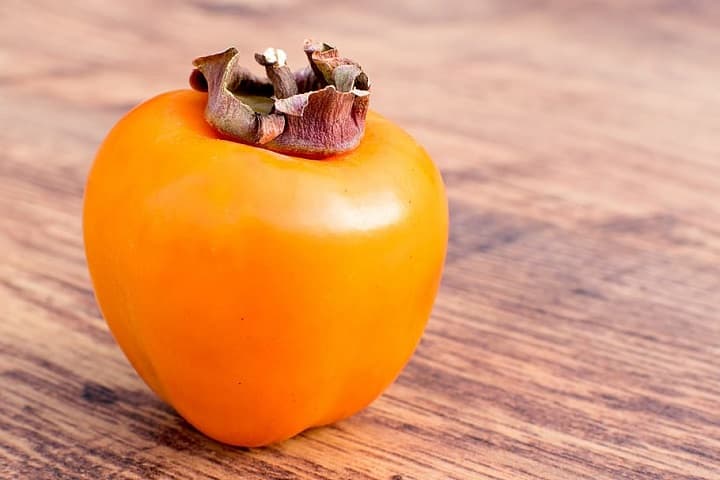 Kaki or Persimmons are sweet slightly tangy fruit which is small, round and has a soft and fibrous texture. It is eaten by peeling and slicing. It can also be enjoyed by drying up just like figs. They can be a little less sweet than a typical fruit but it is a very healthy fruit.
Nashi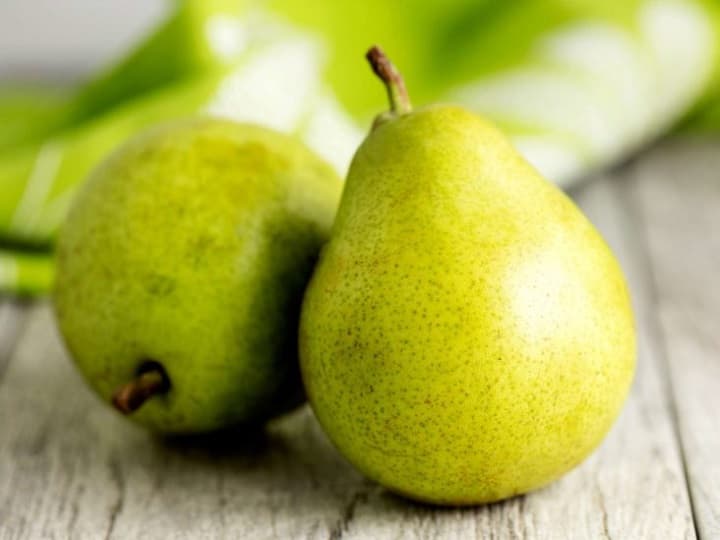 Nashi, specifically the Asian variety of pear, is slightly larger than the average size of a pear also it's a bit spherical shape than average. This fruit is rich in water making it very juicy and refreshing. It can be enjoyed raw but it is usually enjoyed as jam or dessert. As it is a bit high priced it is given as gifts or enjoyed with guests.
Melon(Cantaloupe)
Melon is one of the most popular fruits in Japan. A single melon can cost more than 10000 Yen. But the moderately priced melons are more popular in Japan. There are many types of melons. Sold both as whole fruit and slices, these fruits are available in late spring and summer. Two of the most popular varieties are:
Muskmelon: Muskmelons are a green flesh variety. They are a bit less sweet than average but they still taste good. They can be enjoyed raw, dried, or cooked.
Crown Melon: Crown Melons are the premium variety of melons. They are high priced because of their strict growing rules and inspections. They are very sweet and fleshy.
Square fruits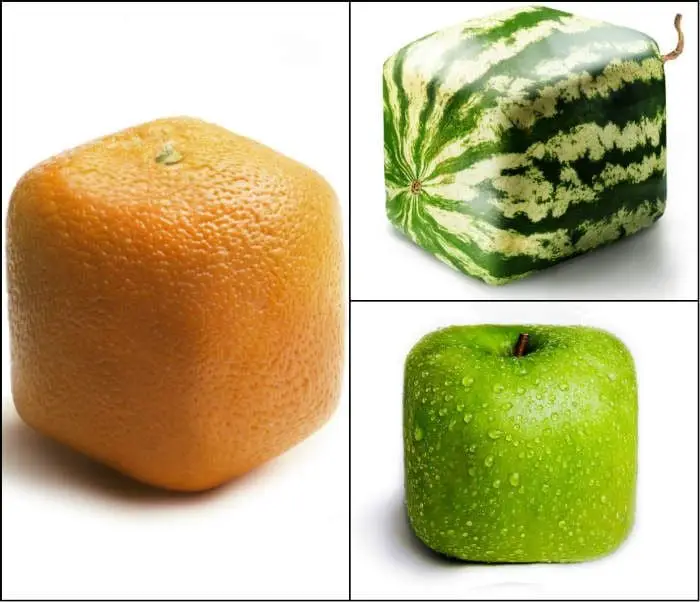 Japan makes odd-shaped fruits like square watermelon. Watermelons are kept in a cube-shaped box and they form the shape of the box. They were made so that they take less space in the fridge. This can also be done to other fruits like orange, apple, etc But the price of these types of fruits is very high.
Frequently Asked Questions
Why is fruit so expensive in Japan?
First of all, Japan has strict rules and regulations on what must be sold in the store. So fruits or vegetables with a little defect are often not sold as many picky shoppers want to buy them fresh and perfect-looking fruits and vegetables. 
Secondly, Japan is a country full of mountains. Almost 80% of Japan's landmass are mountains. So there is not much land left for fruit crops.
Also, fruits are grown with very care. So much that when crown melons are grown, one vine contains one fruit.
Where to buy Japanese fruits?
Mainly you can buy fruits in grocery stores or supermarkets. Since a large portion of Japan's fruit is imported the supply chain leads to retailers where imported fruits are found.
What is Japan's national fruit?
Japan's national fruit is Kaki or persimmon. It was originated in China and was introduced to Japan in the 7th century. Diospyros kaki is the widely popular variety of Kaki. According to the United States Department of Agriculture, "Persimmons are fat-free and are a good source of healthy carbohydrates and natural sugar."
What is the most expensive fruit in Japan?
The most expensive fruit in japan is the Yubari King melon. A reasonably priced Yubari King Melon can cost 10000 Yen (89.26$). But specifically, 2 melons were sold in 2016 for ¥3,000,000 (US$26,779)!
How much is a banana in Japan?
Bananas are quite popular in Japan. A reasonable price of bananas is 200 Yen for 4-5 bananas. But it can always go expensive. For high-quality bananas, a single banana in a plastic bag can be sold at 600 Yen.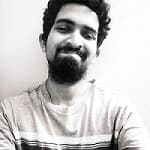 Hi, I am Rahat Rubayet. I am an entrepreneur and A gardener by Hobby. I created This website to help people like you, who want to make the world greener and want to leave it as a better place for our next generation.