For those of us who do not always find the time to water our lawn or garden, a watering timer is a lifesaver. For it makes the watering process fully automatic. So, once you set and program the timer, you can just forget and stop worrying about watering or over watering your garden.
And among all the watering timer available in the market, orbit 56082 3-outlet hose watering timer, performs the best.
So if you want to buy or have a watering timer, then this is the one you should go for it. And why should you buy this timer? We are going to talk about that in this article.
Why should you use a watering timer?
Let me ask the question from another angle: do I need a watering timer? Here is your answer in short. 
If you forget about watering your garden
If you do not find enough time to give water
If you have a problem overwatering your plants,
Then you should definitely use a watering timer. Besides, even if you have time and all, you can always be at ease if you use a watering timer.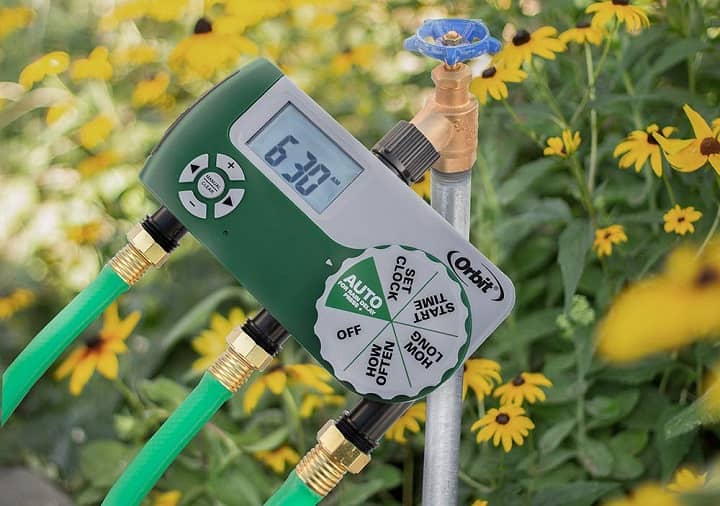 Features of orbit 56082
Simple dial system
This watering timer has a very simple dial system on it. So even for a beginner at gardening, the buttons and dials are pretty self-explanatory. You can just buy one and install it in your water system and start using it. 
In fact, it is so easy to program, you can use it without reading the user manual. Of course, it is better to read the manual. But you can skip that and still use it just fine.
Digital display
The display of it is large enough to see the numbers clearly. Therefore, you can program your watering hose or sprinkler easily using its digital display.
Rain delay
Suppose it is raining outside, what would you do? Would you still water your garden? If it rains enough, there is no need for water for your plants. If you are using Orbit Hose watering timer, you can simply pause the system for 24 or 48, or 72 hours, using the rain delay for that extent.
How often
With this option, you can set how often you want it to water your garden. You can set it up to once every 7 days. Needless to say, you can program to water every 6/12/24 hours of a day.
How long
You can select from 1 minute to 4 hours. Depending on your plants and their need for water, you can program it that way.
Hand/ Manual watering
And obviously, it comes with hand watering or in other words manual watering system. Whenever you find the time or you want to water your garden by yourself, you can use that option as well. You do not need to remove it or anything to water manually.
As you have to use it by a dedicated option for hand watering, your settings or program remain unchanged.

How to install Orbit 56082 3-Outlet Hose Watering Timer?
Here is how you can install an orbit 56082 hose watering timer step by step.
Open the box and unpack it.
Put the batteries in.
Attach it to the faucet.
Start programming it by setting the clock.
Set how often you want it to release water.
Set long you want it to water your lawn.
Start the time.
Pros and Cons of Orbit Watering timer
Pros
Ease of setup and installation
The main reason Orbit watering timer is the best seller and most popular is because it is insanely easy to operate. You can install it by yourself without any help.
A little delay before manual watering 
When you select the manual option, it does not flow water right away. A little delay helps you to get away from the hose line or keep a safe distance or position. 
Cons
Shuts down water abruptly
When the preprogrammed watering time ends, it shuts down the flow of water abruptly. Well, it causes water hammer primarily. And also it can lead to leakage to your pipe.
But there is a solution for it. 
To avoid water hammer and pipe leakage, use Sioux Chief Mfg 660-H 3/4-Inch Female Swivel Hose Thread by 3/4-Inch Male Hose Thread Mini Rester. 

What can you use it with?
Garden Hose
To carry water from the source or the faucet, a garden hose is a great medium. Orbit hose watering timer works great with a garden hose. Use them to water wherever you need them.
Hose Y adapter
Sometimes, you need water at multiple places. You can't just move your hose in different directions over and over. That is a waste of time and energy. You can just use a hose y adapter to split the water into two different hoses.
Lawn Sprinkler
In order to water your lawn in time and do it automatically, a sprinkler is probably the best way. Use a good sprinkler and place it in a position that will ensure to water the whole area. 

FAQs
Which valve is station 1 and which is station 2?
The left outlet of the timer is the 1st station and the one on the right side is the 2nd station. 
Can it work with low pressure ( rain tank ) and at a horizontal position?
Is it battery powered?
Yes, the Orbit 56082 watering timer is battery-powered. You have to use 2 AA batteries to run this thing. And no they will not provide the batteries with it. You have to buy them separately. 
Does the Orbit Watering Timer cause water hammering?
Well, it does. It causes water hammering. You can use Sioux Chief Mfg 660-H 3/4-Inch Female Swivel Hose Thread in order to solve the problem. 

Conclusion
Nowadays, as we are getting busier and busier, it is getting difficult to keep up with the work that we should do on a daily basis. We often find it hard to spend time daily on our favorite hobby, like gardening.
Therefore, using a watering timer is a great idea. And for the many reasons that we discussed up there, Orbit 56082 3-Outlet Hose Watering Timer is the best solution for this problem.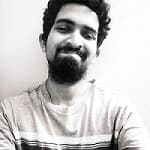 Hi, I am Rahat Rubayet. I am an entrepreneur and A gardener by Hobby. I created This website to help people like you, who want to make the world greener and want to leave it as a better place for our next generation.