We are going to talk about the 7 best potting mixes for vegetables. Check it out.
What exactly is Potting Mix or Potting Soil?
Potting mix is an essential utensil when it comes to gardening, especially using containers. Potting soil is not any real soil. In fact, it is a combination of several kinds of soil with their own unique compositions and materials which is used in order to grow plants, herbs, or vegetables in a container or any similar object.
It's necessary to choose the right kind of potting mix if you want to grow fresh and quality plants through containers. In this case, the potting mix will have to be well-drained, well-aerated, and to have .a pH that is close to neutral. 
Though the pH of the soil is a necessary fact, it's okay to neglect it unless the potting has been used for a long time as the pH of the mix will change due to fertilizers and the type of water that is being used on the plants.
Generally, potting soils are filled with organic substances like peat moss, compost, and bark chips so that the soil can receive proper nutrients and a good pH balance for the plants.
A satisfactory potting soil is well-draining absorbent material made of particles between one-sixteen and a quarter of an inch in size.
If the particles are too small then it will create dense soil that doesn't drain properly. On the other hand, anything too large will not conserve enough water.
In order to grow standard vegetables, a great amount of soil is needed for the large container. You should keep an empty inch on the top of the pot to avoid the overflowing of the water.
If you want to grow flowers, fruits, vegetables, or any herbs using containers, you must choose the correct potting mix or potting soil for your valuable plant first. Then grow them by following proper ways of fertilization and sterilization.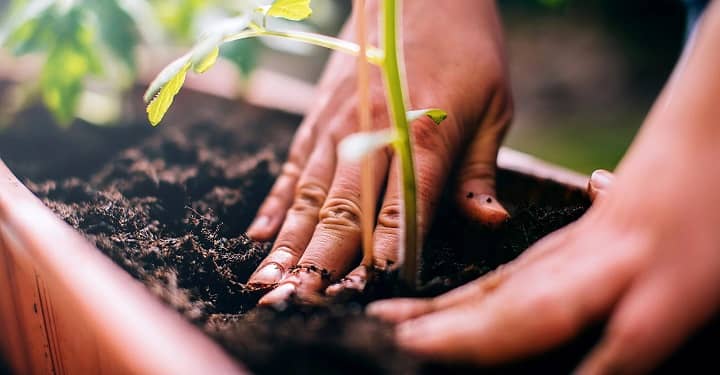 Some gardening products are being mentioned below that you may use for your container gardening.
| Product Image | Product Name | Why You Should Buy | Rating | Check Price |
| --- | --- | --- | --- | --- |
| | Burpee Seed Starter Tray | Includes everything you need | 8.2 | |
| | FoxFarm FX14054 Happy Frog Potting Soil | Easy to use | 9.2 | |
| | Espoma AP4 4-Quart Organic Potting Mix | Enhanced with myco-tone | 9.2 | |
| | Jobe's Organics Compost Starter | Improves soil conditions | 9.0 | |
| | Miracle-Gro Performance Organics All Purpose | Budget-Friendly | 9.2 | |
| | Miracle-Gro Orchid Potting Mix | Feeds up to six months | 9.2 | |
| | Michigan Peat Garden Magic Potting Soil | Originated for home gardening | 8.8 | |
1. Burpee Seed Starter Tray
If you are wishing to grow flourishing, blooming and quality plants in your container garden then this is the right potting mix for you.
Burpee seeds starter tray helps you to grow bigger and better seedlings and will give you healthier plants with healthy developed roots.
It's nutritious, healthy for the plants, and tested by burpee experts. As a result, you get happy healthy plants with high developed roots.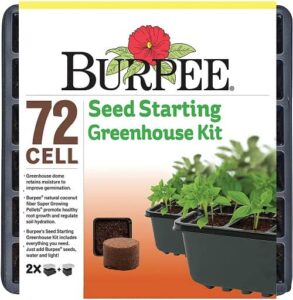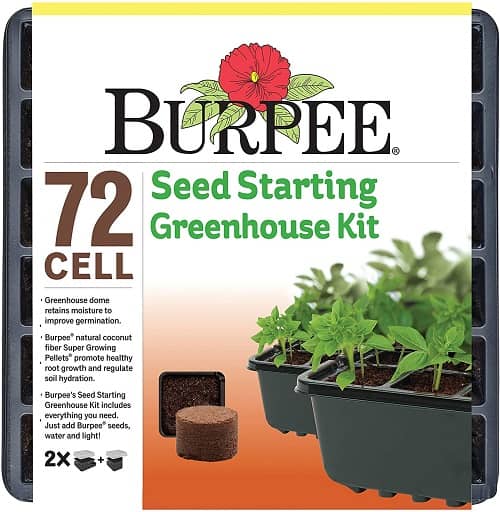 Read the instructions on the product before using it to avoid any misunderstandings. For best results, you can place Super Growing Pellets flat-side down and add warm water slowly which helps to give maximum expansion. It is recommended by the experts to use with 9″ x 19.5″ Seedlings Heat Mat.
Features of Burpee Seed Starter Tray
Features
⦁    The kit measures 10″(W) x 20″(L)
⦁    Comes with 2 planting trays (36 cells each)
⦁    2 plant stands
⦁    1 watering tray
⦁    72 Super Growing Pellets
⦁    1 greenhouse dome
⦁    2 Plant-o-grams (diagram charts)
⦁    6 4″ plant markers.
⦁    Weights 1.55 pounds.
2. FoxFarm FX14054 Happy Frog Potting Soil
Time to grow happy plants in your container garden with Happy Frog! FoxFarm Happy Frog Potting Soil is a superior potting mix that has the right nutrients and materials in the right amounts which will help your plants grow faster, stronger, and healthier.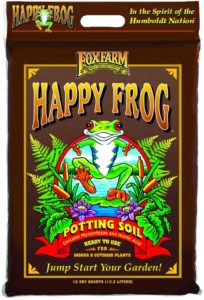 Happy Frog soil mix contains beneficial soil microbes and mycorrhizal fungi that energetically expand your plant's root development with composted forest humus to retain moisture. No more worrying about the moisture of your soil.
The great thing about a happy frog potting mix is that its pH is adjusted so you do not have to worry about adjusting its pH value. Not only that but also the soil is fluffy, well-aerated with perlite, and peat for optimal root growth. So, it's definitely going to be beneficial for your little and lovely container garden.
Features of FoxFarm FX14054 Happy Frog Potting Soil
⦁    Happy Frog Potting Soil comes in a bag.
⦁    It's 12 quarts and the bag dimensions are 18″(L) x 14″(W) x 1.5″(H).
⦁    Weights 14 pounds (6.3 KG).
⦁    Light textured.
⦁    Well-aerated.
⦁    All-purpose potting mix.
⦁    Natural and Organic.
3. Espoma AP4 4-Quart Organic Potting Mix
Looking for more organic and natural materials in your potting mix? Check out Espoma Organic Potting Mix. This comes in 4-quarts and is enhanced with myco-tone for all kinds of potted plants, improves moisture retention, and promotes root growth.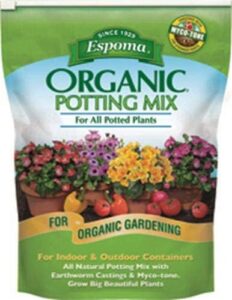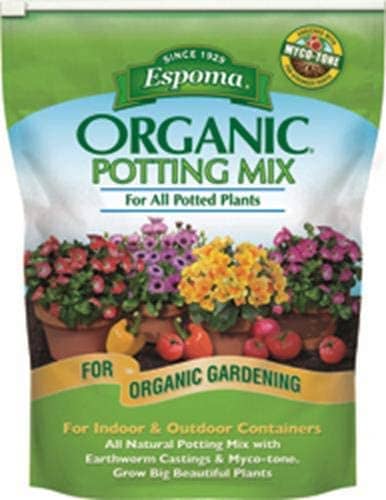 It can also preserve water for a long time as a result there is no need to stress about drought. So, without stressing, grow your plants with joy with Espoma Organic Potting Mix.
Espoma Organic mix is an all-purpose potting soil which means you can grow any of your favorite plants using both outdoor and indoor containers with this organic potting mix. It helps the plants grow faster with strong roots too.
For customer demands and safety purposes, this mix doesn't contain any pesticides or insecticides in it. But if you want to use any, you can totally use them in the right amount as too many pesticides often damage the plants, so be careful.
Features of Espoma AP4 4-Quart Organic Potting Mix
Features
This Organic Potting Mix contains
45-55% sphagnum peat moss
Peat humus
Perlite and
Dolomitic limestone to adjust pH.
It measures 8″(L) x 5″(W) x 5″(H).
Weights 0.634 ounces.
Supported by both indoor and outdoor containers.
Enhanced with Myco-Tone water saving formula
4. Jobe's Organics Compost Starter
Good quality compost is a top need when it comes to gardening and a strong compost starter makes that happen.
A compost starter is an additive material that you mix with the other biotic matters to get healthy compost for your garden.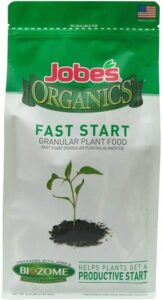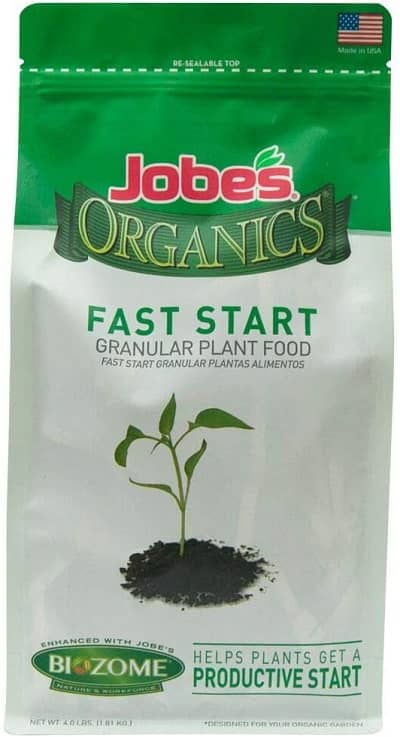 Start your fresh, lively garden and grow quality vegetables, flowers, and all other plants by using Jobe's Organics Compost starter. This compost starter speeds up the composting process and is known as ideal for compost piles. So surely it is a brilliant choice for your container garden indeed.
Jobes Organic Granular Compost Starter promotes fast composting. This compost starter contains a combination of three microorganisms, which are, bacteria, mycorrhizal fungi, and a unique species of Archaea – a significantly dynamic microorganism that rapidly breaks down even the complex materials and minerals into basic nutrients and traces elements that plants can easily absorb. So, the results will be noticed comparatively sooner. Experts have recommended applying this every 4 to 6 weeks.
Features of Jobe's Organics Compost Starter
Features
⦁    It's OMRI listed for organic gardening by USDA.
⦁    It contains no synthetic chemicals.
⦁    (4-4-2) 4-pound bag.
⦁    Measures 6″(L)x2″(W)x9″(H).
5. Miracle-Gro Performance Organics All Purpose Plant Nutrition Granules
Plants need to be fed to keep growing strong and healthy just like we need to eat food to get strength and energy.
They need proper composting, fertilizing, watering, and feeding to become strong, healthy, and pretty.
Miracle-Gro Performance Organics is an all-purpose organic plant food that helps plants to grow faster, healthier, and lively.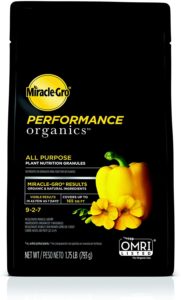 This is suitable for both the plants in containers and in-ground. Miracle-Gro Performance Plant food is enriched with organic and natural ingredients and is satisfactory for flowers, fruits, vegetables, herbs, and all other plants. So, feed your plants with organic healthy food to make them grow sturdy.
You can use it directly from the bag by shaking the granules around the base of your plants to start feeding. Apply every 4-6 weeks and water your precious plants regularly in order to get the best results. Miracle-Gro Performance Organic All-purpose plant food will give the plants vigorous natural growth and you will be able to notice the results within 7 days.
Features of Miracle-Gro Performance Organics All Purpose Plant Nutrition Granules
Features
⦁    It comes in a pack.
⦁    Measures 3″(L) x 5.25″(W) x 9.25″(H).
⦁    Weights 12.8 ounces.
⦁    Feeds up to 165 sq'.
⦁    Rich organic material.
⦁    Blended with aged compost to help the plants grow greatly.
6. Miracle-Gro Orchid Potting Mix
Orchids or the orchid family not only is famous for their various beauty, colors, and fragrance but also it is one of the two largest families of flowering plants. Talking about orchids, who doesn't love them? And If you're one of the orchid lovers then the good news is for you.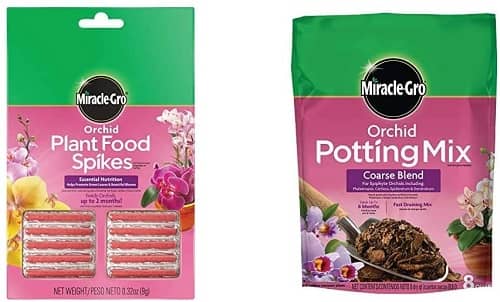 You can grow your favorite, own, beautiful orchids in your house with the help of the Miracle-Gro Orchid Potting Mix. Decorate your balcony or house or garden by growing eye-soothing, attractive orchids in your garden.
Miracle-Gro Orchid Potting Mix will help you grow quality, blooming, and refreshing orchids in your tiny container garden. This potting mix also feeds up to six months so there's no need to worry about the quantity of time.
Miracle-Gro orchid potting mix is enriched with a coarse blend for epiphyte orchids including Phalaenopsis, Cattleya, Epidendrum, and Dendrobium and it's a fast-draining mix.
It is recommended to use when potting or repotting orchid types requiring drier conditions between waterings.
Although a few customers stated that they noticed gnats around the plants, so make sure not to use too much water in the soil since wet soil invites gnats.
Features of Miracle-Gro Orchid Potting Mix
Features
⦁    Comes in two packs.
⦁    Each pack measures 16.5″(L)x12″(W)x7″(H).
⦁    Weights 9.53 Pounds.
⦁    This potting mix is fast draining.
⦁    Supports almost all types of orchids.
7. Michigan Peat Garden Magic Potting Soil
When it comes to purchasing potting mixes, potting mixes vary from one environment to another. Not all potting mixes are required for plants from all environments. So, if you use purchased potting mixes and that isn't working well then you might want to try a different potting mix for your plants. Introducing the Michigan Peat Garden Magic Potting Soil.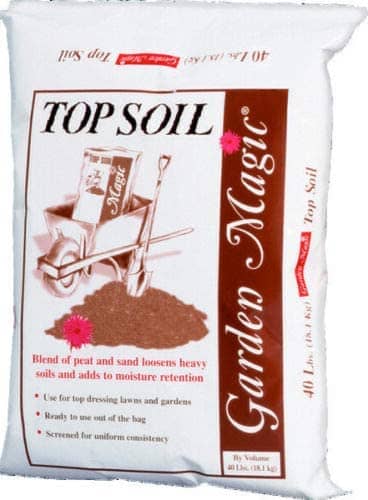 Garden Magic potting soil features a dense blend of reed sedge peat and other necessary nutrients. It's an all-purpose mix and ready to use out of the bag for both indoor and outdoor gardening.
Worried about water balance in the soil? This potting soil drains the extra water but at the same time helps the soil to stay moist to sustain active plant growth during the moderately dry periods. It's really suitable for growing tropical houseplants as well.
Features of Michigan Peat Garden Magic Potting Soil
Features
⦁    The composition is made of reed sedge peat, perlite, and sand.
⦁    Originated for home gardening.
⦁    Bag dimensions are 21″(L)x15″(W)x3.5″(H).
⦁    Weights 20 Pounds (9 Kg).
⦁    Comes in a bag.
FAQs About Potting Mix for Vegetables
Can you use potting soil for vegetables?
Undoubtedly, yes. You can use potting soil to grow vegetables in your container garden. To grow vegetables you need quality potting soil which has the right nutrients and materials and a decent pH adjustment.
Choosing the right size of the container is also necessary so that your vegetables can grow in a suitable and healthy environment. The quality of your vegetable not only depends on the potting mix you're using but also the container you're using for the potting mix.
To grow vegetables, you have to choose a potting mix that has organic nutrients, natural fertilizers, Proper drainage, moisture retention, disease suppression, and so on. The right kind of potting soil will help you grow fresh, quality and healthy vegetables so choose wisely.
How do you make a potting mix for vegetables?
This is a common question coming from those who want to create their own vegetable garden. If you are new to gardening and willing to grow vegetables in your garden then it's very important to know how to make the perfect potting mix for your vegetables.
You will need one gallon of moist, coarse sphagnum peat moss, one gallon of coarse sand, perlite, or vermiculite. Then, you will need to adjust the texture of the medium to create a loose, well-drained mixture. Usually, the sand feels gritty and clay feels sticky so, if the potting soil feels too sandy you should add more peat moss into the mixture.
You can also buy potting soils as stated above. There are many unique and nutritious potting mixes available in the market being ready to get purchased. Happy Gardening!
What is the best soil mixture for vegetables?
It's necessary to choose the perfect soil mixture for your vegetable garden. According to some experts' recommendations, the best soil mixture for your vegetable garden is 60% topsoil, 30% compost, and 10% potting mix or potting soil that you prepared or bought.
While some other experts suggest adding them in the same amount. Some vegetables need heavy topsoil while some vegetables don't. In this case, you will have to choose according to what vegetables you are willing to grow in your container garden.
Generally, the mixture stated above is advised for vegetables by the experts. Remember to sterilize your soil mixture as often potting soil can attract insects such as fungus gnats.
What is the difference between potting mix and garden mix?
The potting mix and garden mix are two different implements. Thus, they have several major differences between them.
The main difference between potting mix and garden mix is that garden mix is a soil mixture of nutrients to mix with topsoil in the ground and potting mix is for indoor gardening, for potted plants. In simple words, the garden mix is used in the outdoor garden meanwhile the potting mix is used for the indoor garden.
Garden mix is a modification that is mixed with domestic soil in order to grow quality plants in your garden. But the potting mix is formulated for use in household containers. It's made with different kinds of materials and supplements to grow plants in small containers inside the household.
Garden mix or garden soil contains sand, silt, loam, rocks, and other minerals while the potting mix contains natural rocks, moss, composite, and plant matter.
And compared potting mixes are more expensive to purchase than garden mixes. Generally, per bag of potting mix costs around $5 to $25 anywhere.
Final Verdict
Hopefully, this article helped you gain some of the basic knowledge about potting soil and growing vegetables or any other plants using potting soil or potting mix.
Streak a bit of luck with growing your own firm and hearty vegetables in your own container garden.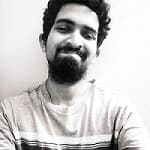 Hi, I am Rahat Rubayet. I am an entrepreneur and A gardener by Hobby. I created This website to help people like you, who want to make the world greener and want to leave it as a better place for our next generation.